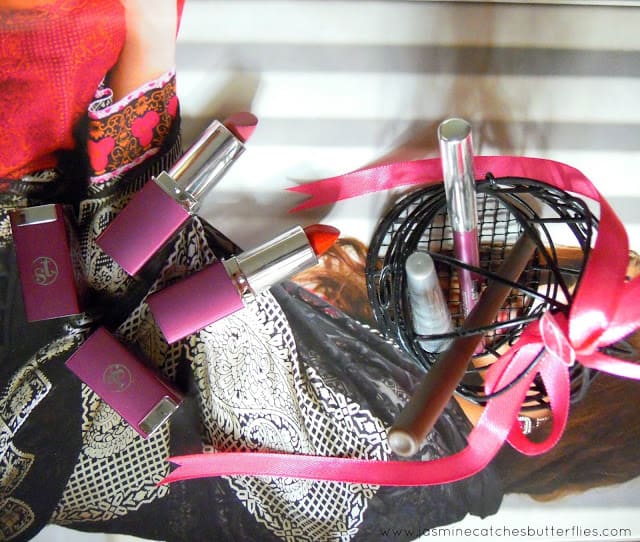 Sweet Touch England Fall Makeup
PR Samples*
The sweltering summer isn't still quite over in Karachi and even though it did get slightly cool earlier, the thermometers are once again bursting. Nonetheless, we are already in the mood to embrace fall just for the cosiness and to get us headed in that direction Sweet Touch England has recently launched a new range of lipsticks and makeup.
You might have already seen the cute photos of the invitation, giveaway goodies and brownies on the social media, which were exclusively given to the Karachi beauty bloggers at a meetup held at the New York Coffee cafe in September. Just in case you missed them, check out my Facebook page and Instagram, before we dig into the goodies I received.
First of all, let's just take a moment to appreciate how adorable the mini cage filled with makeup products looks! Sweet Touch did really well on the creative front this time. I was lucky to get two of their new matte lipsticks, a lip liner pencil, an eye liner pencil and a liquid liner. I have been testing them out for a while now and here are my thoughts on them.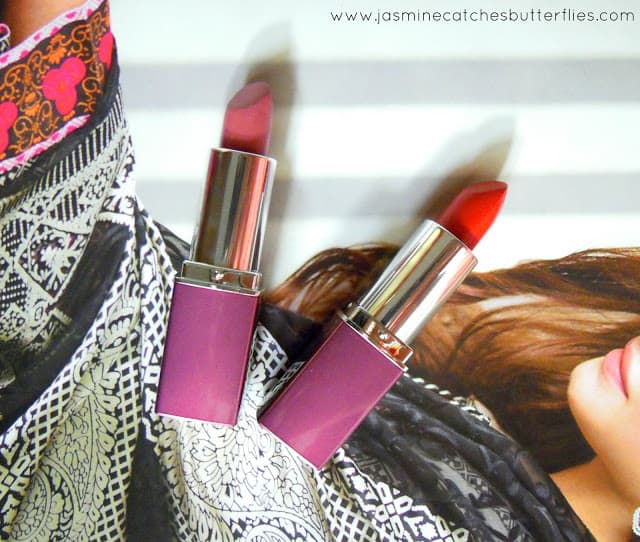 L-R: Matte Lipsticks in 773 Matte and 723 Matte
Matte Lipsticks in 723 Matte and 773 Matte:
Last year I tried one of Sweet Touch's lipstick for the first time and it was in the shade 761 Matte. While I still love the colour, I must say that the new range is a lot better formulation-wise. There are a total of 60 new shades available out of which the two I have are 723 Matte and 773 Matte. These are hydrating, glide on easily and do not cling to dry patches on my lips like 761 tends to. The packaging looks the same but is now a wee bit heavier and feels better in quality marginally. The colour payoff of both of the new shades I have is great but they have different degrees of matte-ness.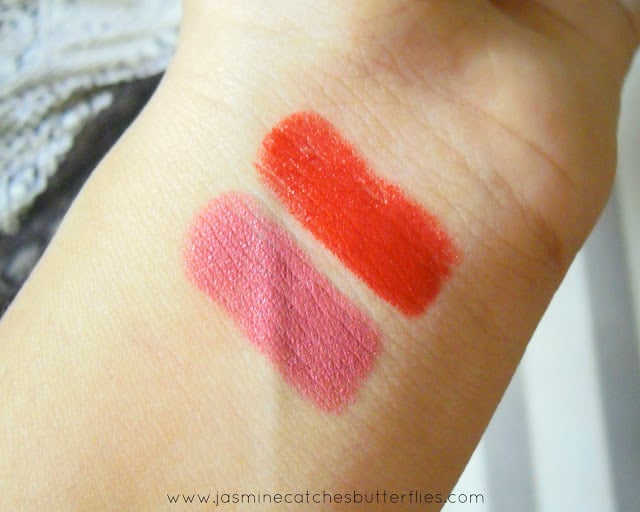 L-R: Matte Lipsticks in 773 Matte and 723 Matte
723 Matte is a bright classic red, the kind we all need all year round. Even though it is a matte shade, I still find it to have a strong sheen and I would rather call it satin or even cream than matte. It can smudge easily so be careful with that and it can fade fairly easily too with eating and drinking. I personally like my reds to be very matte as then only I can pull them off but if you like cream finishes, this might be your cup of tea.
773 Matte is a perfect mauvy pink that I love for everyday wear as it compliments my skin tone and adds a professional feel to any look. Now this does not glisten on lips like 723 and is a moisturising matte shade. It also has a better lasting power and does not bleed.
Price: 345 PKR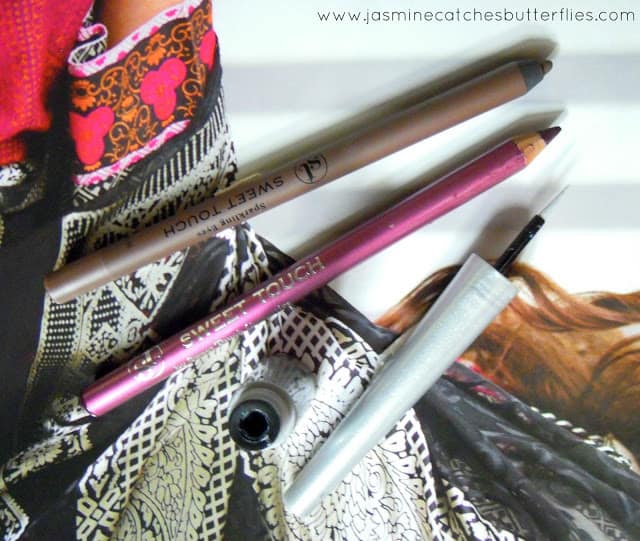 L-R: Brown Eyeliner, 808 Cherry Lip Liner, Pearly Silver Eye Liner
Long Lasting Lip Liner in 808 Cherry:
I want to grow my lip liner collection because I only have a few but I am not too much of a lip liner user as I already have big lips and it just gets tough to keep it sane. Lip liners are still great for more intimidating lipstick shades to keep everything within the boundaries. The colour name 808 Cherry is as deceptive as the colour of the pencil's body. The actual shade is much darker being a gothic purple, looking nothing like the name or the paint on it. However, that is not too big of a deal, I love the shade as I had nothing like this in my stash and it seems great for fall. The pencil is quite matte and not as hydrating as the lipsticks but I wouldn't call it drying. Bear in mind matte lip pencils are usually drier than the lipsticks due to the nature of the product. I still do not find it difficult to apply, the pigmentation is bang on and I am willing to step out of my comfort zone by wearing this on its own.
Price: 95 PKR
Sparkling Eyes Pencil Liner in Brown:
Haha, do I even start? Forever raking in all the brown eyeliners, you know. This though is a bit light on me being a coffee brown so I actually like the idea of using it as a lip liner with brown toned lipsticks. The colour payoff like the rest of the Sweet Touch range is pleasing and it glides on easily as well. There are a total of 10 shades available.
Price: 315 PKR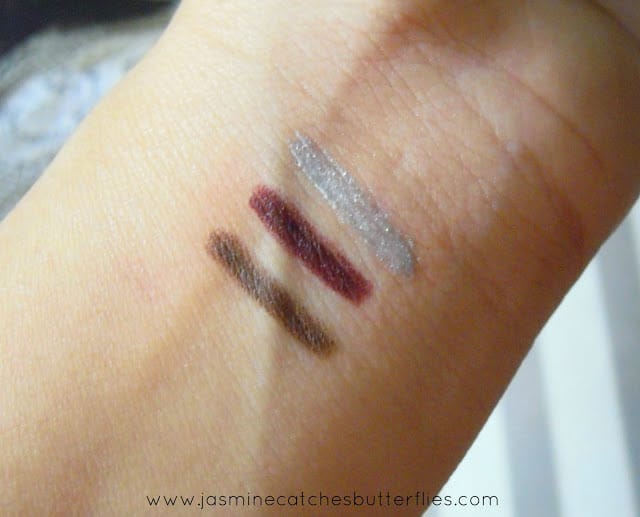 L-R: Brown Eyeliner, 808 Cherry Lip Liner, Pearly Silver Eye Liner
Sparkly Super Long Lasting Eyeliner in Pearly Silver:
This was the product I was most surprised by as I expect coloured liners especially silver ones to be watery and mainly filled with chunky glitter but this is so opaque and pretty. It has tiny glitter particles and offers single swipe perfection, looking identical to a silver stationery marker pen. You might need to shake it up before use though as the constituents tend to settle down in the bottle. This would look stunning layered with a black winged eyeliner for a night out. It just adds pizzazz and looks daring but girly at the same time. Pearly Silver does not claim to be waterproof but once it dries it just does not budge and does not come off easily with just water either. There are a total of 6 shades available.
Price: 625 PKR
I am quite pleased with all of these products and I like how Sweet Touch has been trying to up their game over the past year! I would definitely recommend you to pick up some of these as I wasn't disappointed. The brand is a local affordable gem and deserves more recognition.
Are you ready to embrace fall?





A-List Advertiser: Beauty Talk With Saadia

(adsbygoogle = window.adsbygoogle || []).push({});