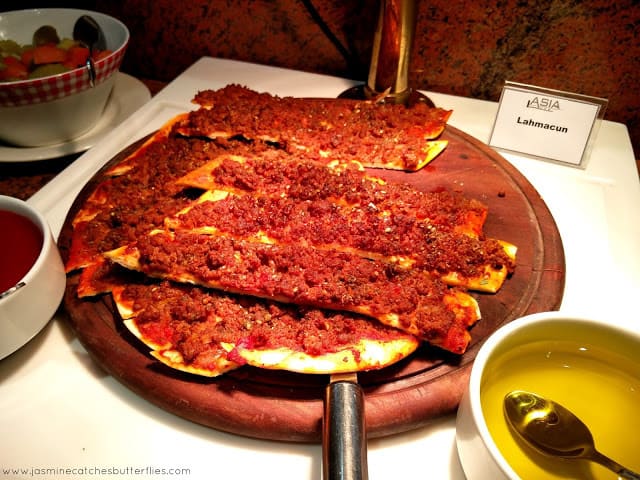 Lahmacun
Turkish Food Festival at Asia Live, Avari Towers
You guys know that I have been enjoying the food festivals held at Asia Live, Avari Towers nearly every month or so. As a result, I feel lucky to have been able to try cuisines from so many diverse cultures and countries in such a short span of time. This happens to be the week of Turkish Food Festival at the restaurant and I must say this has to be one of my favourites so far. I am sure a lot of us would agree that we only got to know more about Turkish culture once the country's drama serials hit the national television. Sure, some people did not agree with the idea, but I personally think it was a great exposure for us and I really enjoyed some of the novel based dramas, Ask-i Memnu, better known as Ishq-e-Mamnoon in Urdu, being my favourite. I am not going to defend why I loved it, but you can read my thoughts on it here.
So the reason why I say that the Turkish Food Festival has to be the best one yet is because Turkish cuisine has a good balance when it comes to seasoning and spices. The food was neither bland nor too hot, and therefore, I felt there was something to suit everybody's taste. There were even a couple of dishes that were a bit salty. All of the food festivals at Avari are really extensive when it comes to the menu so you are bound to get a good idea of food from different parts of the country. Turkey is a country rich in history but at the same time it is known for being modern and I feel that translates well into its cuisine.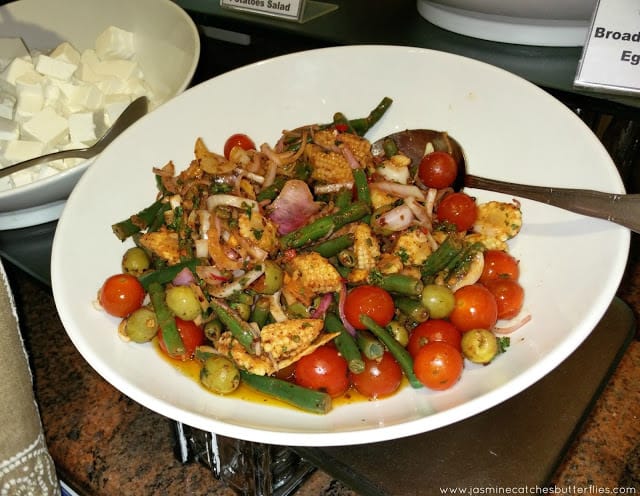 Salad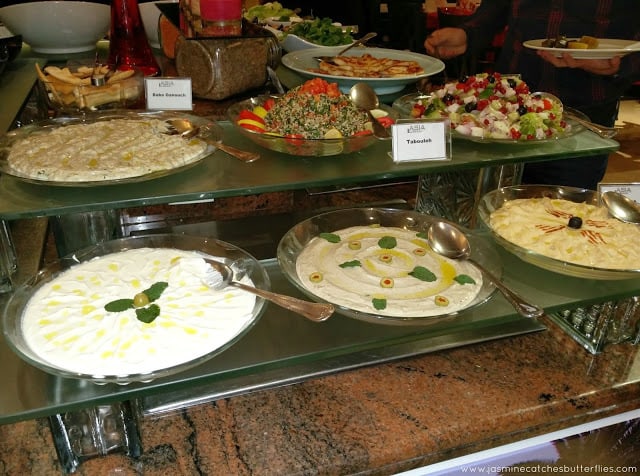 Hummus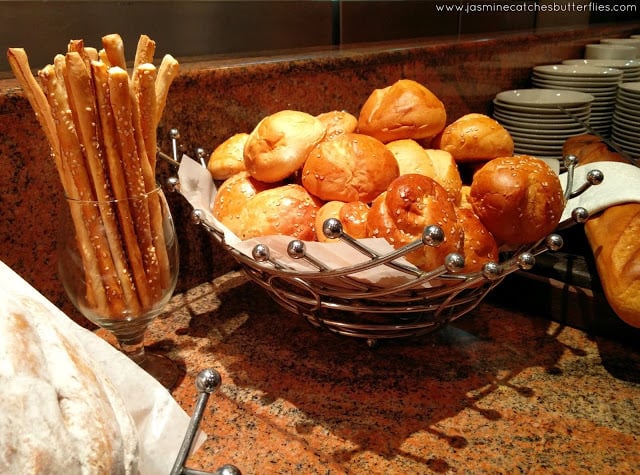 Breadsticks and Bread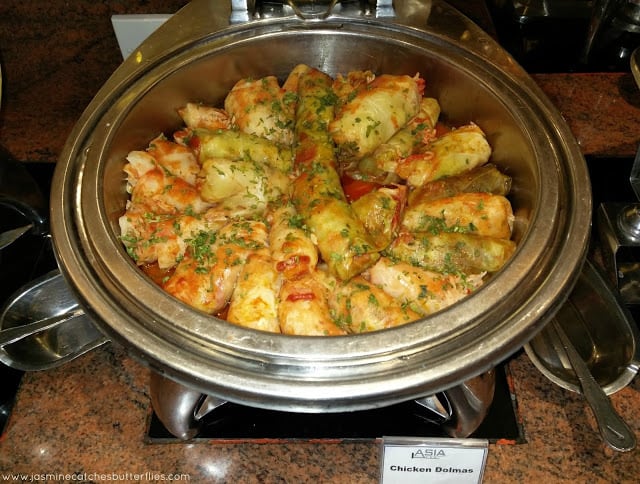 Cabbage Dolmas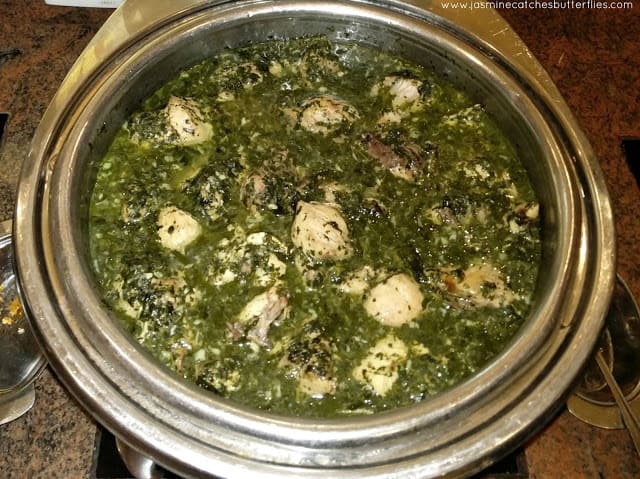 Chicken Molokhia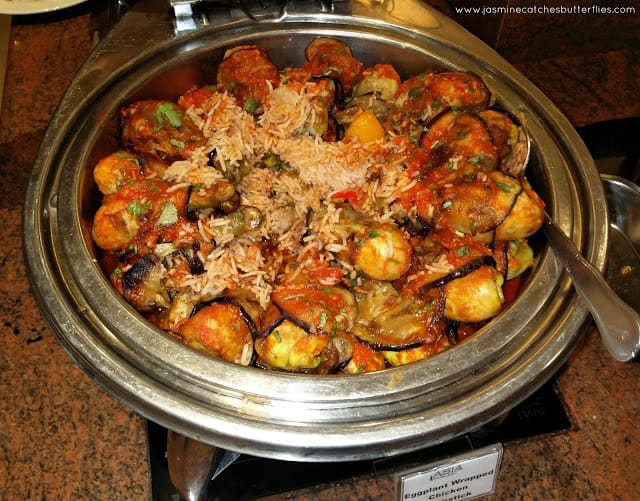 Eggplant Wrapped Chicken Drumsticks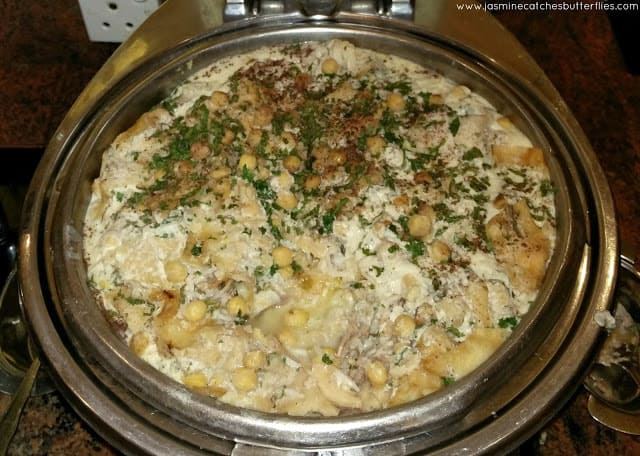 Fatteh Bil Lahme (Chickpea chaat, sort of, but not spicy)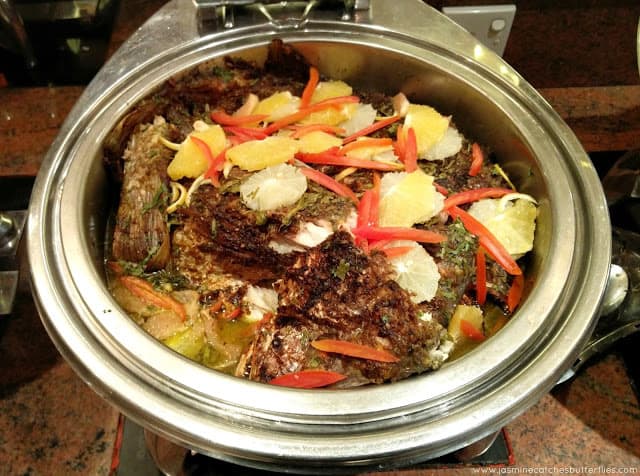 Fish Pilaki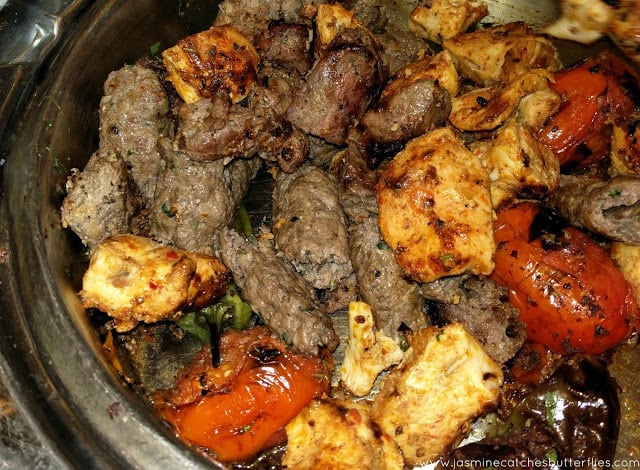 Grilled Mix Kebabs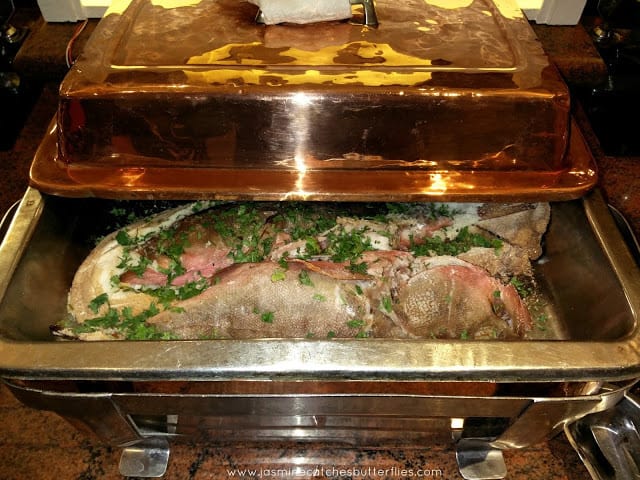 Baked Fish
So, I begin with salads and mezze, which you can call starters here. My favourite out of all of them was Chicken and Walnut Salad. It was so yummy that I really wish I could eat another plate of it but I had to try other dishes too. It had a creamy dressing so it was quite filling too. Another thing that I really enjoyed was the Hummus with bread sticks. Hummus is a paste of chickpeas with olive oil and some other ingredients. I am not usually that much of a fan of such middle eastern dishes, but this Turkish version just tasted amazing.
Another mezze item was Cabbage Dolmas, and while I have had Grape Dolmas in Oman before, this was something different for me too. Dolmas are basically made by rolling fillings into leaves or a piece of vegetable. So the cabbage dolma had rice and some meat in it. Now I say 'some' meat because the tent card read 'Chicken Dolmas' but the list of the menu that I have reads 'Cabbage, Prawn and Rice Dolmas' and since the dolma was quite big, I had only taken a small piece of it which just happened to have rice. I do think some of the place cards for food read differently than what was present as I felt the same about the baked red snapper card which I think was baked kingfish. They have both of them on this menu by the way so they might have gotten it mixed up.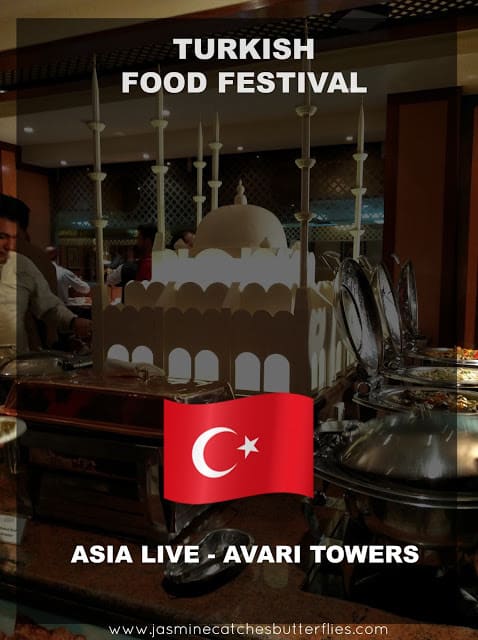 Apparently, there were soups too but I did not see them. I guess, the menu is tweaked day by day too but they have six soup options so I am sure there would have been some present on the opening night too, I probably just missed them.
Moving on to the main courses, there were a lot of rice and meat options. At the same time, I noticed that the Turks love their vegetables as nearly every dish was loaded with a variety of them, and eggplant being the one that stood out. Also, seafood was quite abundant too with baked and grilled fish and squid. The thing that I went back for seconds was Lahmacun which is a flat bread dish with minced meat, onions, herbs and tomato paste. To me, it is basically just like pizza sans cheese. I have also had Lahmacun before at Solen Istanbul but I must say that this was much better and moist as opposed to what I had before.
Finally, the most diverse Turkish food course has to be the dessert because it comprises of traditional delicacies like baklava and halva but also meringue, pudding, compote, pies and more. Besides them, Avari also always includes some other dessert options like cheesecake or even bundt cake. My favourite was the Hazelnut Meringue with Rose Cream. It was so light and yet was packed with a burst of flavour. Two desserts that I found quite different were Chilled Yoghurt Cream with Sweet Tomato Compote and Pomegranate Gel with Fairy Floss. Both of them were not really sweet and in fact had a strong flavour of the key ingredients. I reckon things like these have an acquired taste but I love trying something new.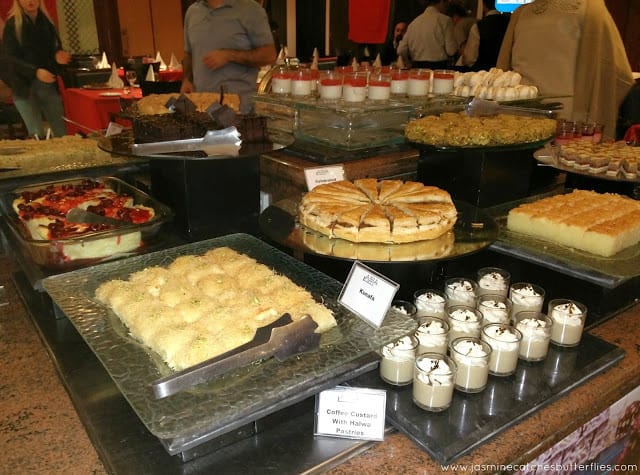 Desserts at Turkish Food Festival at Asia Live, Avari Towers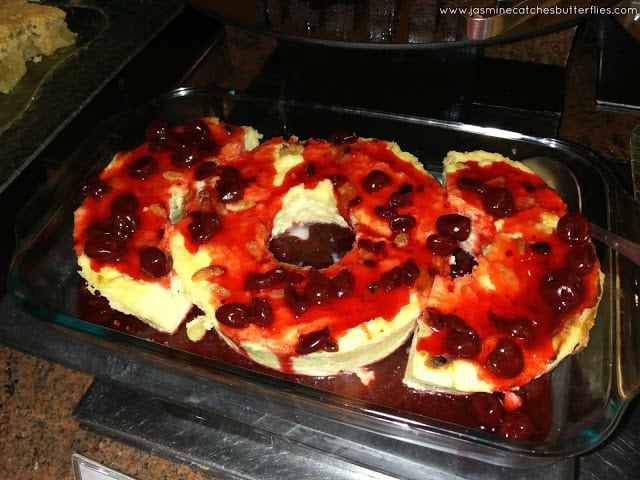 Cherry Bread Pudding with Almond Cream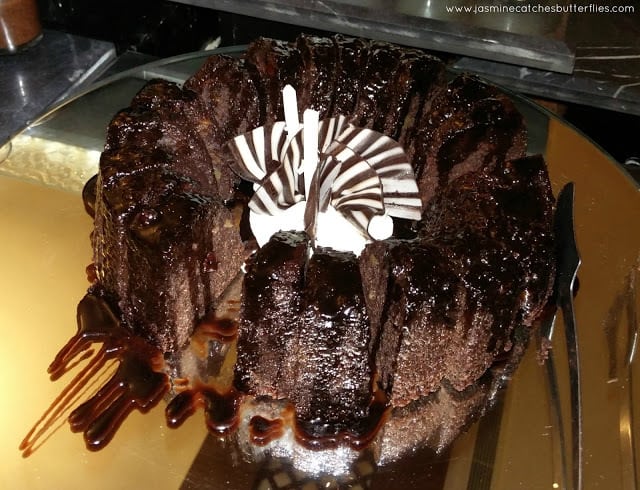 Chocolate Bundt Cake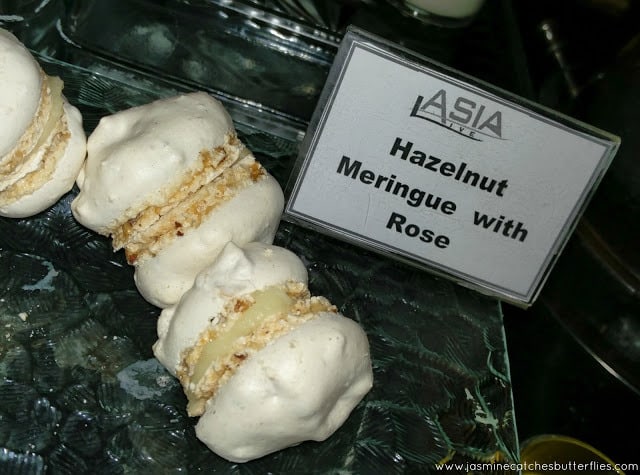 Hazelnut Meringue with Rose Cream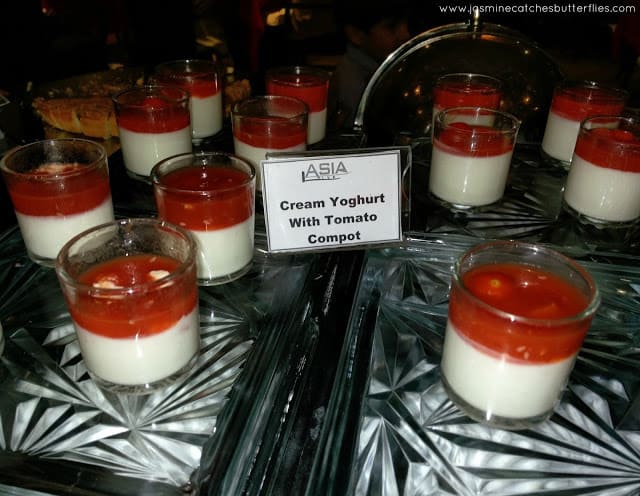 Chilled Yoghurt Cream with Sweet Tomato Compote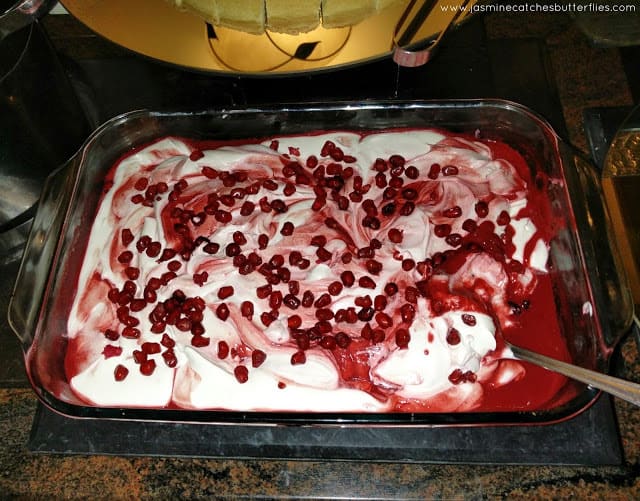 Pomegranate Gel with Fairy Floss
The Turkish Food Festival is offering buffet dinner for 2300 PKR per head exclusive of tax from 7:00 to 11:00 PM. It will end on 29th January 2017, so definitely do check it out if you are intrigued by Turkish cuisine and do try my mentioned favourites too. The menu list is very long so I could not cover everything in this post but do check out my Snapchat today for seeing the whole menu. I will post it again on my Instagram Stories on Thursday in case you miss my Snapchat posts from the day. You can follow me @JadirahSarmad on all of the social media platforms apart from Facebook which is Jasmine Catches Butterflies.