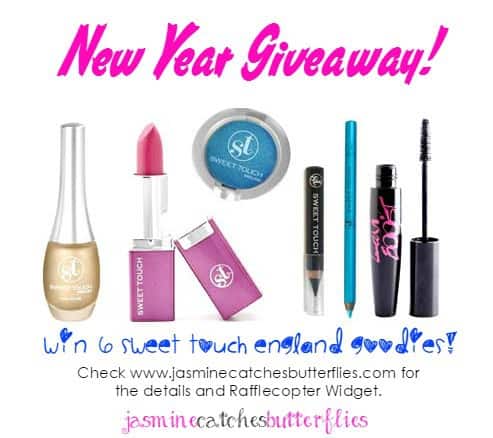 Note: The shades of the giveaway products may vary from the ones in the image above.
This year has been massive for my blogging journey. I met so many lovely people, got multiple opportunities of working with numerous local and international brands and above all, got acknowledged by my readers that I have been doing a better job here. I'm extremely grateful for every single one of yours constant support. In addition to that, I am also very happy that I have grown enough to have been able to inspire my friends and cousins to start up their own blogs! I know there's still a long way ahead of me and I feel humbled by everything that God has given me. It's also great to see cosmetic industry thriving in Pakistan and as a token of love for my recent milestones, I have teamed up with Sweet Touch England to bring you a BIG New Year Giveaway! 😀 The rules are simple and straight forward as always. Please go through the Terms and Conditions below the Rafflecopter Widget and invite more of your friends so that we grow together! 🙂

FIRST FIVE ENTRIES ARE MANDATORY!
Missing any of the mandatory entries will sadly lead to disqualification.
One Lucky Winner will win:
1) Nail Color,
2) Matte Lipstick,
3) Lash Boost Mascara,
4) Oriental Kajal,
5) Sparkling Eye Shadow and
6) Sparkling Pencil.
Terms & Conditions:
First 5 entries are mandatory for entering the giveaway.
This giveaway is brought to you by Jasmine Catches Butterflies and is sponsored by Sweet Touch England.
It is only open to Pakistani residents.
Please take your parents permission before entering if you are below 18.
There will be only ONE lucky winner.
The winner will be contacted via the provided email address.
If the winner does not contact back within 48 hours, another winner will be picked.
The prize will be directly shipped to the winner by Sweet Touch England but for this mailing address will be required.
I'm not to be held responsible if some damage occurs during shipping.
Duration: 28/11/2014 (6:45 PM) to 9/01/2015 (12:00 AM) (Pakistan Time)
Note: The shades of the giveaway products may vary from the ones in the image above.
Massive thanks to Sweet Touch for sponsoring this lovely giveaway! ♥ Do follow them on Facebook and Twitter.

All the best darlings! 🙂 x