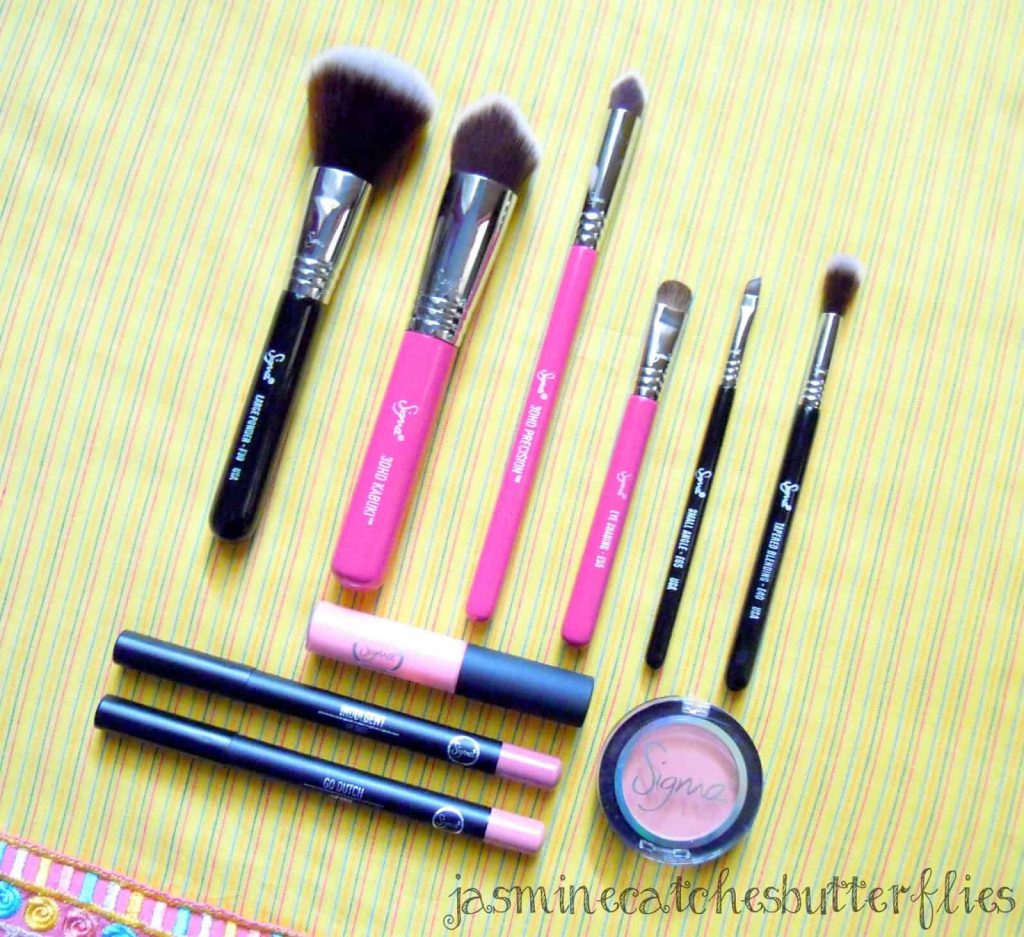 Ever since I got my Sigma Travel Kit and F84 (review here), I have been hooked to the brand for their high quality. Recently Sigma Beauty released two new brushes, the 3DHD (review here) ones and a fall makeup collection called Fall Softly (review here) all of which I have reviewed in detail.
A lot of you guys have been asking me how to get them here in Pakistan and since Black Friday offers will go live shortly, Sigma is offering 48 hours of FREE Worldwide Shipping from 27th November 12 AM PST (1 PM Pak Time) to 28th November 11:59 PM PST (29th Nov 12:59 PM Pak Time). Use code ' BF2014 ' at checkout on Sigma Beauty website to avail this offer.
So what better time than now to make an investment for your stash? To help you out with your purchases, here are my top picks from Sigma.
1) 3DHD Kabuki*: This is a versatile brush and the reason why I like it tad bit better than F84 is that it soaks less.
2) 3DHD Precision*: This brush is a must-have for cleaning up and applying concealer around eyes.
3) Tapered Blending – E40 This fluffy crease brush is the best I have ever tried. It has to be my favourite of them all.
4) Eye Shading – E55 This shader brush is ideal for nicely patting and pressing on eye shadows as it has a large surface area.
5) Small Angle – E65 I love this brush with gel liner to achieve fuss-free precision.
6) Large Powder – F30 This big brush is very soft and gentle for powder application.
7) Heavenly Blush* This is my favourite blush shade from the Fall Softly collection as I am a coral kind of girl.
8) Indulgent Lip Base* I have been singing praises of this wonderful new Sigma offering and you must try out one of their lip bases. The formula is brilliant and I love dark nude shades so this works for me.
I even did a Kylie Jenner Lip Madness (Dupe Alert!) guest post featuring this on Natasha Kundi's Blog recently.
9) Go Dutch Lip Base* Another one of the amazing lip bases, but I love to layer it with my next pick, the lip vex.
10) Tender Lip Vex* Like I just mentioned I love to layer this over Go Dutch lip base for a cute, opaque pout.
Note: This post contains affiliate links and if you shop through any of them I'll be getting a 10% commission so go ahead if you would like to support my blog. Bear in mind that all the recommendations have been made honestly.
What are your top Sigma picks? 🙂 x