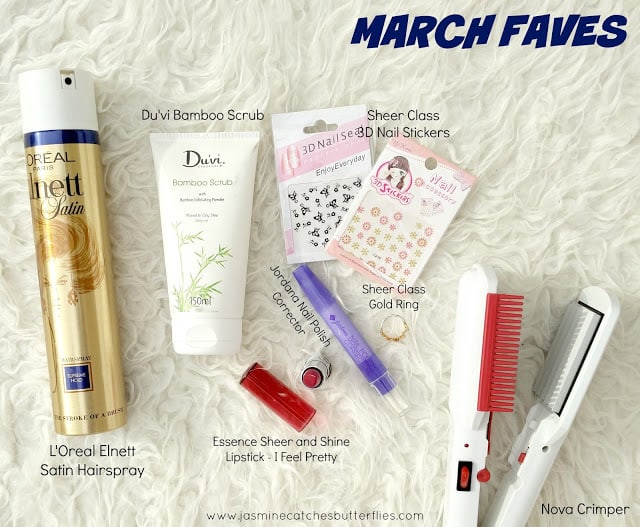 This is probably as late as it could get with my March Favourites but the post had been hanging unfinished in the drafts for a couple weeks already. Excuse me for juggling between one too many things at a time but I had been looking forward to sharing my favourites with you, all this while. Though I am sure you must have read my previous blog posts so you would be able to recognise a lot of these things from then but I have been big on hair lately so you will know more about that too.
1. Du'vi Bamboo Scrub*
I have always said that I love me a good scrub for the dry flakes that I have to deal with all year round and while Du'vi Bamboo Scrub is extremely gentle, it is perfect for everyday use and I love it for gently smoothening my skin every morning. If you would like to know more about it, go ahead and read my detailed review.

2. Essence Sheer and Shine Lipstick – 09 I Feel Pretty*
I love this sheer red shade for everyday as it adds a little bit of colour without looking over the top. So, throughout March, I wore this a lot casually to university or for a quick drive to market. If you want to keep things minimalistic in terms of makeup, this gets a thumbs up from me and for details and swatches check out my review.
3. Jordana Nail Polish Corrector*
Sometimes, little things make such a difference and Jordana Nail Polish Corrector makes that difference. We all inevitably get nail polish around our cuticles every single time and a corrector like this makes a better quick fix than the old school cotton bud trick. I am a convert and if you are into nail art and stuff then you would like it too. To know more about this product read my review.
Some of my readers suggested in the comments section of that review post that they have used a similar corrector pen from Essence so if you can't get your hands on this one then that might be a good alternative.
4. Sheer Class 3D Nail Stickers*
Talking about nails, these 3D stickers from Sheer Class are a lazy girl's dream. They are self-adhesive, super pretty, easy to use and can last a fair few washes too without a top coat! Just peel off, pop on and you are good to go. I paint my nails often and adding a sticker here and there for a statement nail especially is my favourite thing to do. I even like the nail sequins I got from Sheer Class and you can see all of them in action in my review.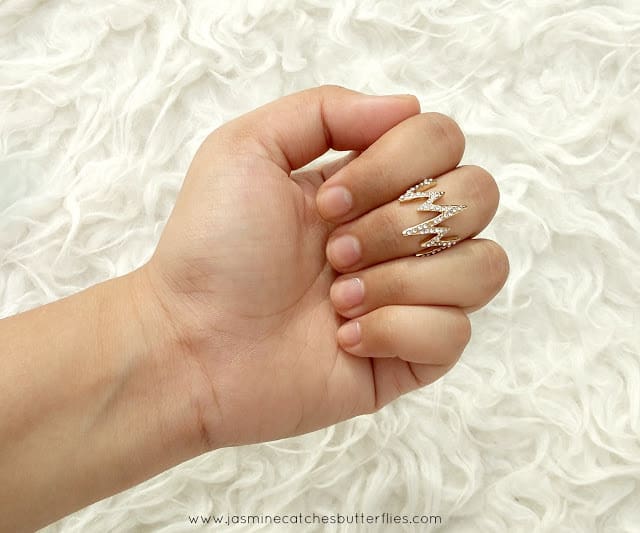 5. Sheer Class Gold Plated Rhinestones Ring*
This ring screams KAPOW to me because of the shape. It is bold and still versatile as I can wear it as a normal ring as well as a midi ring. I must say that I used to be an all silver girl but Sheer Class has influenced my taste and I have been more into gold lately. So, I wore this quite a bit during March and got compliments from nearly everyone I met.
You can get midi rings and other jewelleries/accessories from Sheer Class on Facebook for 20% off by using my discount code 'Jadirah'.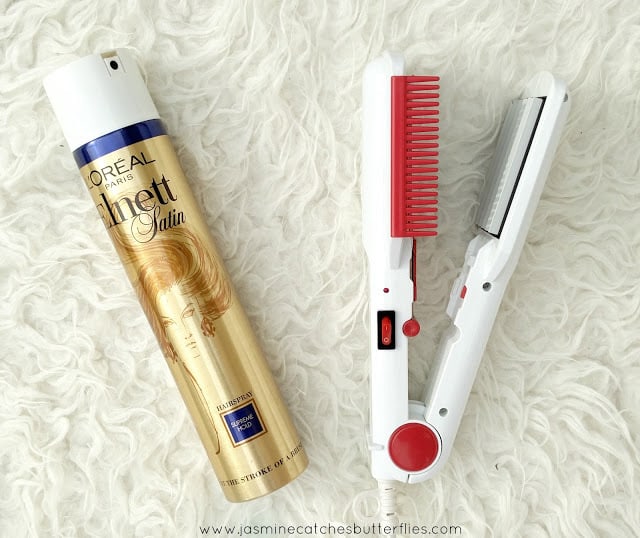 6. L'Oreal Elnett Satin Hairspray – Supreme Hold
Hairstyling takes me back to my A'levels days when I used to experiment all the time. However, I have been going for a more sophisticated look for university and my favourite hairstyle for presentations and interviews has been the plain Jane side twist. Now, straight hair is easy to style but its difficult to maintain the style throughout the day as everything just slides off and falls loose within a couple hours and sometimes even less.
So for someone like me, a good hairspray is a must have and I love this one by L'Oreal because it gives me a strong hold with only a little amount, my hair doesn't budge and it does not leave my hair crunchy like an ordinary hairspray. The product claims to disappear with stroke of a brush and that is so true. Once I am done for the day, I can let my hair down without worrying about a wash because after brushing my hair is soft and ready to be styled all over again.
7. Nova Hair Crimper
Another star product for effortless styling but still makes your hair look glam and as if you tried. Hair crimping is so 90s but I think everything is in style as of late and I don't even care, I love crimping and it makes my limp hair voluminous. This product was actually supposed to be a part of my Februray favourites because that is when I rediscovered it in my closet just before going to a wedding one night and I have been obsessed since.
A friend of mine gifted me this a couple years ago because it was in my wishlist back then but I don't know what I was doing wrong as it did not crimp my hair at all even after heating up for 30 minutes and several attempts. Therefore, I concluded maybe it was out of order and then this year just thought I'd give it another shot and surprisingly it worked.
This hair styling tool happens to be 2-in-1 as it has plates for straightening the hair as well but I have never used that since I have another straightener. There is also a little detachable comb on one side so it separates the locks and brushes your hair while styling. Nova is a new brand to me and I haven't used anything else from them but crimper is a bit hard to find locally so look out for this name if you want to get one.
I hope you liked this edition of monthly favourites even though it got a bit late. Don't forget to share what you like in the comment section, I would love to know.

Follow
(function(d, s, id) {var js, fjs = d.getElementsByTagName(s)[0];if (d.getElementById(id)) return;js = d.createElement(s);js.id = id;js.src = "https://widget.bloglovin.com/assets/widget/loader.js";fjs.parentNode.insertBefore(js, fjs);}(document, "script", "bloglovin-sdk"))