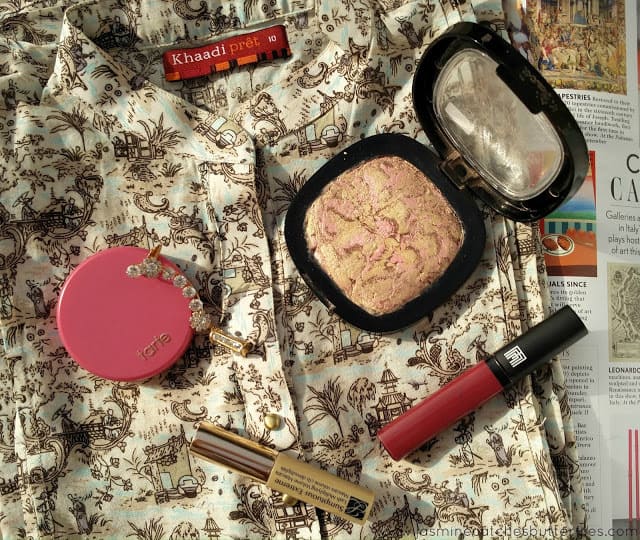 I love knowing everybody's suggestions in monthly favourites and I enjoy jotting down my own all month long. When I am 90 or something, I am sure I would enjoy scrolling through my old blog posts and seeing what I used to like back in the day. Here is what I have fallen in love with this February and I would like to know your thoughts on them too.
1. Tarte Amazonian Clay Blush – Blushing Bride 
I mentioned in my review that this isn't as pigmented as I expected it to be but I still like it for everyday wear and I was actually using it for subtle contouring during February. I know that might sound weird but it is a mauve pink so I like doubling it up that way. Have you ever tried a blush for contouring yourself? I suggest you should especially if you already have chiseled features.

2. Wet n Wild Fergie Highlighter – Hollywood Boulevard 
I had been eyeing this for quite some time because I loved it on a friend of mine and she told me it is known as a dupe for Champagne Pop. Mine looks a bit distressed and that's because Indelath had only two in stock and both were broken so they were on sale for only 800 PKR which otherwise was 1100 PKR. A great deal either way and it makes a great highlight for my skin tone. Nobody should waste their money on expensive stuff out there which don't even deliver what you expect and get this instead.
3. Massarat Misbah Lip Gloss – Dahlia 
You saw this in my Top Five Fall Lip Shades and this has been my go to all this month for everyday makeup. Now this is a high pigment gloss but I love wearing a sheer layer of it that looks kind of tinted but still subtly glossy.
4. Estee Lauder Sumptuous Extreme Lash Multiplying Volume Mascara – 01 Extreme Black 
Just4girls sent this sample sized mascara with an order of mine and it has a great formula which isn't too wet or dry so it doesn't transfer of flake and is buildable. I didn't expect to like it as much but if I get a chance I would purchase it myself now.
By the way, you can get 5% off on just4girls.pk if you use my code J4GJB5 on checkout.
5. Sheer Class Jewellery 
You can see my gold plated ear cuff above but I have been loving the brand and its accessories a lot this month. I am sure you could already tell if you avidly follow me around on social media and we even did a giveaway that ended last night. What I like about Sheer Class is the pricing. I see overpriced accessory pages all the time which are a total rip off while this brand offers great quality that too in a reasonable price range. If you are planning on buying from them I would suggest you use my affiliate* code JCB15 for a further 15% off.
6. Khaadi Printed Kurti
Khaadi is one of my all time favourites for pret and I got this western style printed kurti for only 1000 PKR on 50% off which is insane. Actually, when I walked in it was super late and the shop was about to close, so I just picked this up, tried it on,went to the counter and was amazed when the salesman said your total is 1000. I wore it just a couple times this month but I absolutely love the muteness in the colour with tarnished gold buttons.
Let me know if you would like to see a clothing haul because I picked another kurti later and last night bought some shirt pieces from Gul Ahmed's latest collection too.
7. Geometric Nails
I was watching a makeup video on YouTube when I saw in a glimpse that the girl had this cool monochrome geometric nails, so I looked up online for tutorials and used Color Studio Professional Eve's Secret and Golden Rose black striper for doing it myself. It looks edgy and I have had it on all month long.
So that wraps up my February favourites, tell me what you like and if you would love a clothing haul.