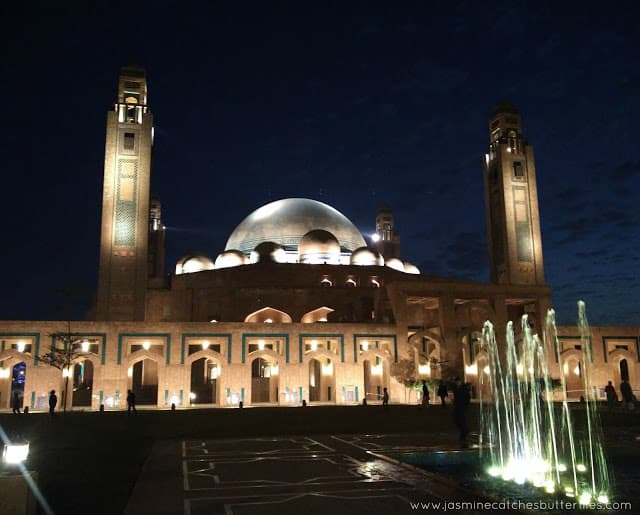 Grand Jamia Mosque in Bahria Town
One minute I am sitting exams, the next minute I am in Lahore, or "LOL" (no offence) as a toddler on our flight called it upon landing. According to my plan, I had to go to Shaukat Khanum Memorial Center Hospital for a winter break internship last year but due to the savage attack on APS and high-security alerts throughout the country, the trip had to be cancelled.
This year the hopes were higher but there were again one too many last-minute traumas I had to deal with, including my batch mates dropping out of the plan one by one as well as Shaheen cancelling the flight. There came a point when everybody backed out but I was so determined to go for multiple reasons that I didn't care if I had to go on my own. Luckily, my family backed me up throughout and gradually everything fell into place. Some of my fellows who had dropped out earlier joined in and I managed to get another flight which was a day in advance but thank goodness for farsightedness and having all worst-case scenarios mapped out in my mind. I had ticked off everything from my trip to-do list just in time.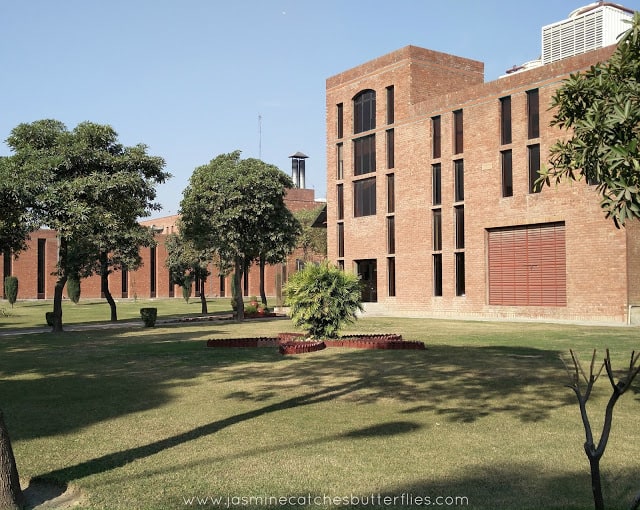 Shaukat Khanum Memorial Center Hospital
The most challenging thing for me was looking for hostels in Karachi. I asked for recommendations from people who have already interned at SKMCH and my friends in Lahore. Now we did have a little bit of a problem as an uncle of mine had already given some advance payment at one of the hostels, which was basically more of a paying guest situation. However, when we reached there around 12 AM after an exhausting trip since our flight had been delayed and then it was an hour-long drive from the airport, we were not happy with what we were getting for the price we were paying.
So all of us just grabbed our bags and ran out shrieking from that hell hole (the reaction is satirical but the description of the place is not an overstatement). Of course, we did lose our advance payment but seriously this trip would have been absolutely miserable if we stayed there for the next 16 days, especially in the freezing cold weather which I am not even used to.
I like to keep my options open so luckily we had a far better place to move right in on such short notice. If you girls are looking for a safe place to stay in Johar Town as paying guests I would definitely suggest Bint-e-Hawwa Female Hostel. We had a room to ourselves with an attached bathroom in a separate portion upstairs away from the sweet and considerate host family that made our stay truly worthwhile. A place where you are fully facilitated with UPS, WiFi, geyser, transport (to SKMCH), security, meals twice a day (breakfast and dinner, since we were away during lunch hours) and whatever else you require, makes all the difference in the world. We had such peace of mind there that I didn't feel homesick at all.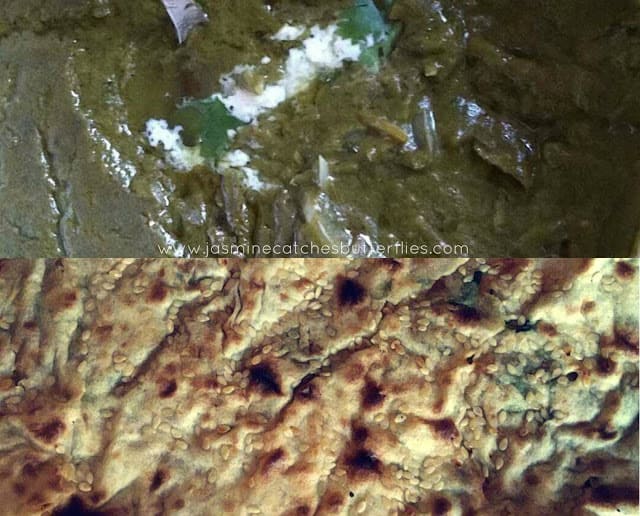 Sarso Saag and Aloo Naan
This was my third trip to Lahore and this time, I was mainly in the "new Lahore" which is pretty far from the old one so I didn't get a chance to visit historical places again but I am glad I saw the other side, most of which I hadn't seen before. We were engineers by the day and tourists by the night. So on a tight schedule here is a list of some popular places that I went to, liked and even disliked other than the ridiculously expensive rickshaws (in Karachi you can go to the other side of the city for around 200 PKR while in Lahore they'll just drop you two roads across in that amount).
Bahria Town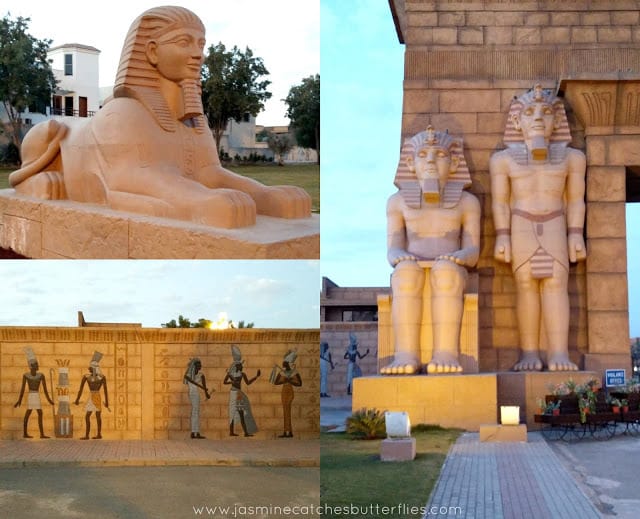 Alexandria in Bahria Town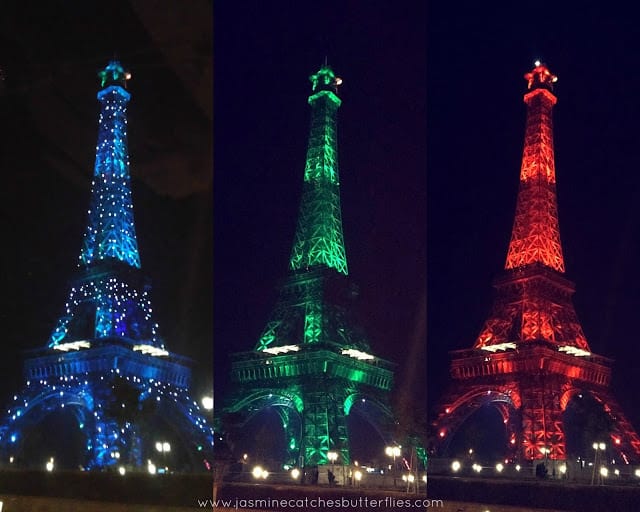 Eiffel Tower in Bahria Town
I kid you not, I was actually awestruck. The route to Bahria Town was extremely bumpy and unglamorous (we took loads of wrong turns) but once inside, Oh My God, I was not expecting what I saw. I am not the most knowledgeable person when it comes to places so I had no idea how beautiful and clean this town was. The photos speak for themselves, Alexandria, Grand Jamia Mosque, Eiffel Tower, I mean crazy stuff.
When I was there Alexandria wasn't open but the entrance to it and the wall art was just so grand with iconic Egyptian monuments and wall art. Then there was a mini version of Trafalgar Square and even the Eiffel Tower, which happens to be my favourite wonder of the world. They have now opened up a restaurant in it but at that time, it was still under construction.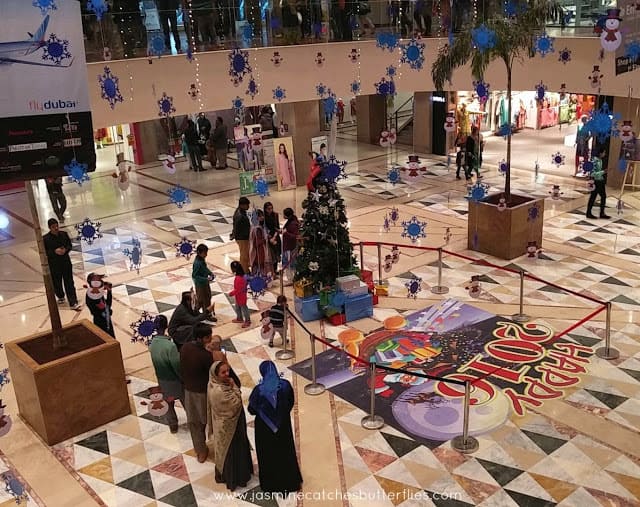 Fortress Square Mall
Fortress Square
I had heard a lot about this place from Lahoris, and even though I have been to Joyland in the past, Fortress wasn't a thing itself back then. Honestly, I don't really get the hype. Fortress is nothing out of the ordinary and the Fortress Mall is nothing on Karachi malls. In fact, the only mall I liked even though it was small was the Mall of Lahore. For those of you who don't know, Fortress Square is mainly a strip withHyperstar, mall, cinema, and restaurants and has Joyland within it. The ambience didn't get my fancy at all but I had fun in Joyland on some crazy rides and my favourite was Tagada. I wish I had gotten on Discovery as well because I did back in 2010 without even knowing how it worked and it was one hell of an experience. However, chickens for friends that I have, no one was ready to go with me.
As far as shopping is concerned we did go to G1, MM Alam, Gol Chakkar etc around us and all of that was okay, not as good as Karachi. My favourite out of all though was the kids section in Jahangir Sons gift shop at the G1 market. I wanted to buy everything they sell there and got some cute toothbrush holders, one of which I featured in my End of Year Favourites.
Uptown LA 
This is a bowling alley in Lalik Chowk and I had actually planned a little rendezvous with a friend in Lahore to catch up. It is fairly small, especially in comparison to Karachi's Arena but still well kept.
On to the food, I stuffed my face with eight pizzas in sixteen days which is absolutely mental but I did enjoy a lot of desi cuisines too including the ones we got at our hostel. So, I can give you an erudite insight on some of the must-haves as a foodie and have broken them down into two categories.
Dine Out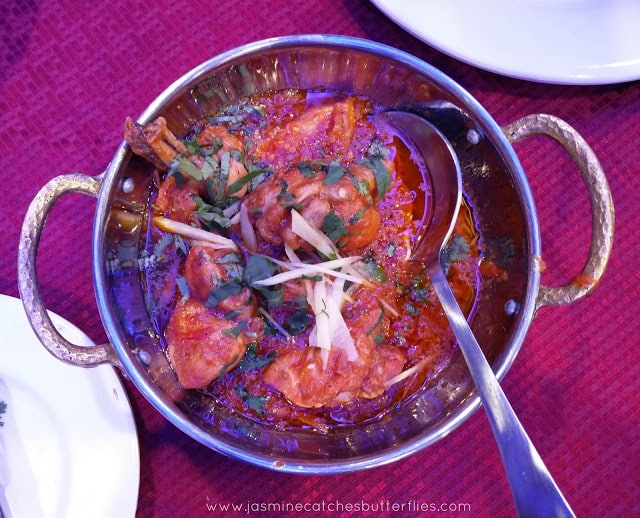 Peshawari Karahi at Al Kabab
Within Johar Town, we dined at Bombay Chowpatty, their BBQ platter was all I lived for. Al Kabab, which doesn't sound even half as fancy as it was with the option of Arabian style dining and music, I absolutely loved Peshawari karahi there. Then we were treated out by our hosts at Shaheen Shinwari for a farewell dinner and the place had a similar vibe as Al Kabab but just a bit toned down. Nonetheless, you should try their lamb karahi and chapli kababs, there's no denying that the food was awesome. We do have quite a few Shaheen Shinwari franchises here in Karachi too but Lahore's seemed a bit different and my experience there was better.
Other than those restaurants we also ate out twice at F.R.I.E.N.D.S Cafe which had a set-up inspired by the popular TV show. They had a short menu list to choose from but we enjoyed the pasta there.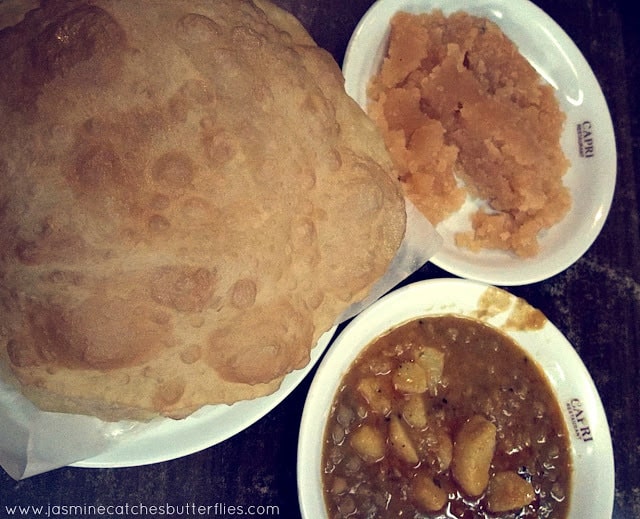 Breakfast at Capri
One Sunday, we also went out to Capri Restaurant in Liberty Market for breakfast but honestly, I was disappointed by the classic halwa puri cholay nashta as I expected it to be better than Karachi but it was not even close.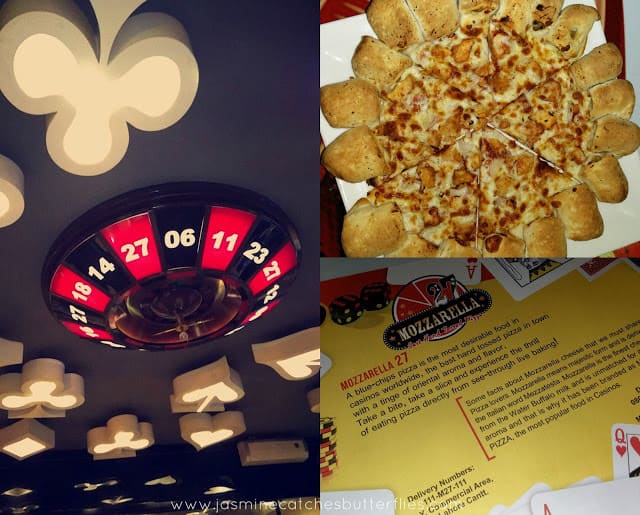 Mozzarella 27
A wee little shoutout for my pizzaholics, I got you covered too. So, it all started with Sarpino's Pizzeria within JT and it will always be a special place for me now since that's where I met my best friend and had my first pizza in Lahore. However, my absolute favourite pizza place was Mozzarella 27 on Mehmood Ali Kasoori Road, the interior design had a casino theme going on which looked kind of badass and the servings we got were filling for the price. On another day we devoured Primoo Pizza in the Mall of Lahore which happens to be my best friend's favourite.
Marble Slab Creamery
Also, on the same road, we found Marble Slab Creamery which was darn expensive but still, the ice creams tasted really good and I would definitely suggest that you should try it out at least once.
Grab and Go
Gourmet, is obviously, infamous but I am not much of a fan myself, I just like how insanely expensive their bakery items are. Similar to that, I really liked Cakes and Bakes and I wish we had one here. Also, every time we are in Lahore or know somebody who's going to be coming from there, we always have to get like a gazillion boxes of nan khatai from Khalifa Bakers. They are so crispy and the best ones I have ever had. You should definitely hoard and share too.
I am not sure how popular is Rizwan Burger but we stopped there pretty much every time we were in Gulberg for grabbing an inexpensive snack on our way. It isn't anything extra special but comes on nothing beats bun kabab and fries when you are driving around town in the evening.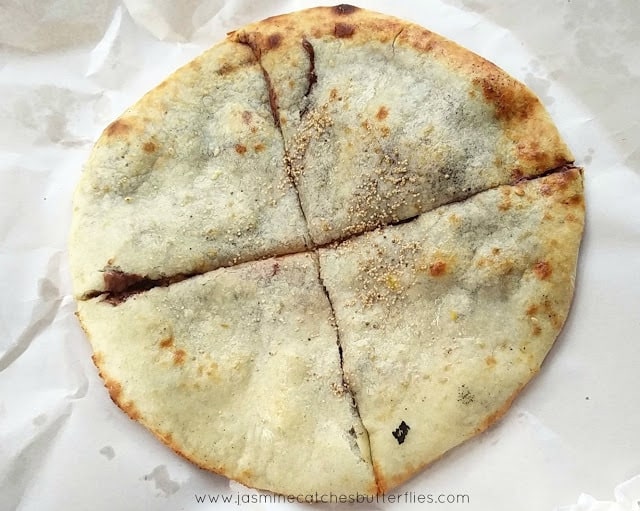 Maro Tandoors Nutella Naan
If Rizwan wasn't it then we could be found hogging Nutella Naan from Maro Tandoors in Model Town, and I didn't think I would love it as much as I did. I actually like the concept of oozing Nutella from a naan better than a Nutella paratha.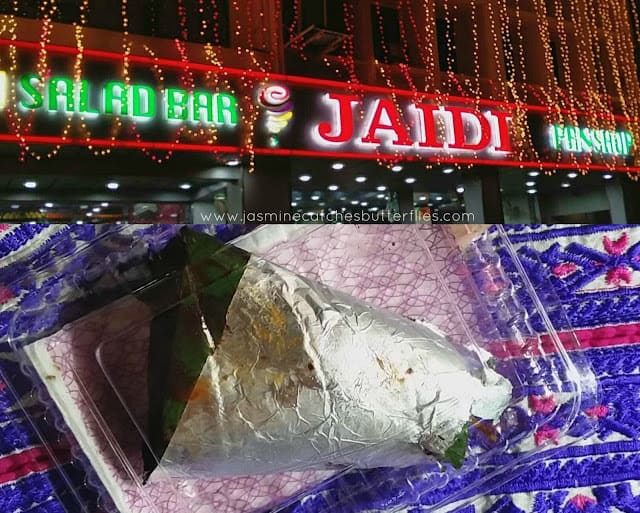 Jaidi Pan Shop
Another one of my favourites was Jaidi Pan Shop on Street 141 from where I had a chocolate pan which sounds strange but ended up being heavenly as soon as a huge chunk of chocolate melted in my mouth. They sell a lot of other flavours and beverages etc, but it was funny when I first saw it because I always thought of it as a khoka on a bleak road when my Lahori friends used to talk about it but it actually turned out to be a huge place.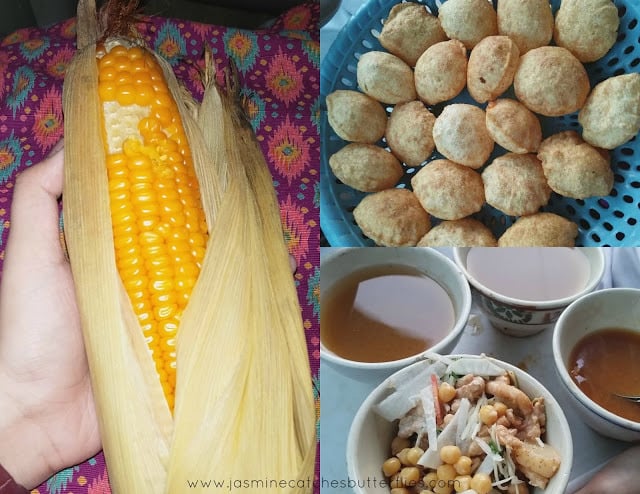 Raakh Wala Sitta and Gol Gappay
I am gutted about not being able to visit Jinnah Library but we had gol gappay and raakh wala sitta, which is corn baked under ashes and isn't found in Karachi, as street food near the Jinnah Park and Lawrence Garden area.
Again, last but not the least, we were introduced to Pizza 21 by our hosts and it was like more of a desi twist on pizza which is quite common here but you know that makes it better for our liking. This was pretty inexpensive with good deals and we ordered it a couple of times, in fact, we celebrated New Year's night with this pizza.
As an adult on my own, this was my first time exploring so much of the newer side of Lahore and it is indeed a beautiful city. Other than the throat-ripping rickshaw fares and overall meh shopping/market scene, I enjoyed my time and truly appreciate the clean environment with wide roads because Karachi tends to get pretty congested just about everywhere. So as a Karachiite, I would love to fly to Lahore more often as a weekend getaway.