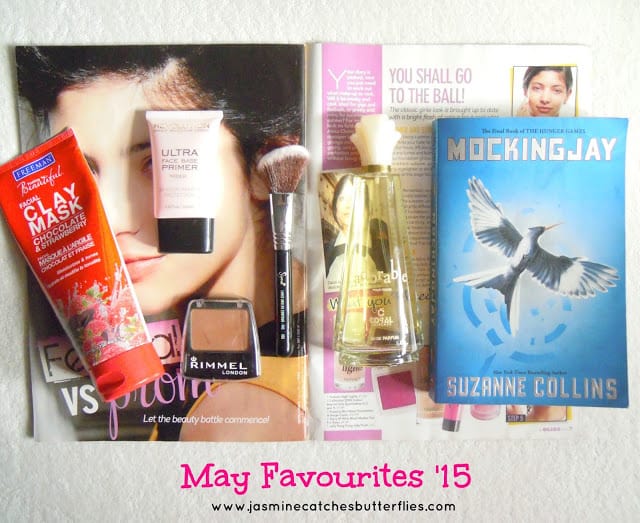 This year, I have been trying to churn out a minimum of 10 monthly posts, but Alhamdulillah managed to exceed the limit each time. Now, I am about to get on with the toughest week of finals so this is the tenth and final post for May. I am happy to keep up with my goal of sharing monthly favourites irrespective of my exams, so here it is.

1. Freeman Chocolate and Strawberry Clay Mask (Review)
The affair with this mask is still going strong. It is the best thing I have ever tried for my skin type. Find out more about it in my detailed review.
2. Makeup Revolution Ultra Face Base Primer* (Review)
Over the last couple of weeks, I attended a lot of events and this has been great to hold my makeup for lengthy durations in the heat of Karachi.
3. Rimmel London Blush in Tuscany
I originally wanted to buy Bourjois' chocolate bronzer but when I couldn't find it, I picked this blusher up on a whim. I thought it would be a great contour shade as it is not orange and slightly ashy, but I got some negative feedback about the pigmentation of Rimmel blushes in my haul post. However, I have been using it since religiously and it is amazing for subtle contouring. Nothing too strong and gets the job done just right! The pigmentation is not bad either and I love it because it blends seamlessly.
4. Sigma Beauty F40 – Large Angled Contour (Shop* – 10% off code: GLOWGETTER)

This is the brush I love to use for contouring with Tuscany. It picks up the sufficient amount of product and then evenly diffuses it on blending.
5. Adorable Pour Femme by Coral
I featured this perfume in my Spring Fragrance Wardrobe and honestly, I haven't been wearing much of any other scents lately.
6. Mockingjay
Proud of myself for finishing the Hunger Games series before the finals! I thoroughly enjoyed all of them but I must say the first part was my absolute favourite. However, I still found Mockingjay to be better than Catching Fire as it was gripping right from the beginning. There were a lot of plot twists and unexpected deaths so I wouldn't say it had the happiest of endings but at least Suzanne Collins didn't leave us hanging.
That's all for May! See you in June with my new advertisers. Bookings are still open, check details here.
What are your favourites of the month? 🙂 x









May Advertisers:
Tycoon:
Youth Tribune
,
A-List:
Natasha Kundi's Blog