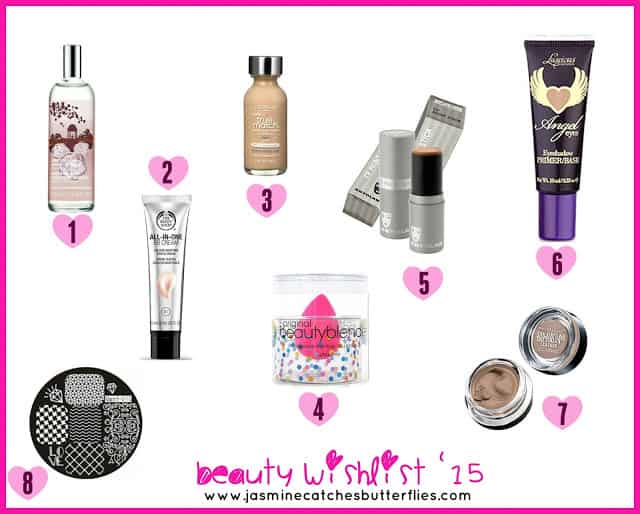 I was looking at my beauty wishlist from last year and even though I missed out a lot of products, I do not really want many of them any longer, mainly because I have found alternatives or they have lost their charm. So, I decided to share my current cravings on the blog as these are not only fun but also easy to keep track of. I do not want much right now and I am hoping to get all of these soon, therefore I have kept the list realistic.
1. The Body Shop English Dawn White Gardenia Mist
A few months back, while it was still new, I sniffed a tester of English Dawn and ever since then I have had it on my wishlist. It has a floral scent and I love such feminine perfumes.
2. The Body Shop All-In-One BB Cream (Shade 02)
If you read my Most Wanted TBS Wishlist back in the day, you might remember that I was not too keen about trying out TBS makeup but over the past year I have heard so many great things about this BB cream that I want to see for myself what the hype really is.

3. L'Oreal True Match Foundation
I have already used L'Oreal Lumi Magique Foundation and you can read the rant and rave on it here. Once you read my review, you will get an idea of why I want to try out the original True Match and that too US version.
4. Beauty Blender
While we are on the base, how can we miss the blending tool for it. Previously, I had put the idea of getting a beauty blender totally on the back burner as I believe Sigma Beauty F84 Angled Kabuki does a fine job itself. However, I need a beauty blender especially for blending my concealer and heavier coverage foundations as both can look cakey easily.
5. Kryolan TV Paint Stick in 508
If I could run a thousand feet away from stick foundations, I seriously would. They will be the last thing I would ever put on my face because of my dry/combo skin type, but this orange corrector seems like the best bet for dark circles and something that local makeup artists rely on. It has been on my list for a long time, but I am still uncertain if it would work for me.
6. Luscious Angel Eyes Primer
A lot of bloggers have raved about this eyeshadow primer and have even compared it to the infamous Urban Decay Primer Potion so this again has been already on my list but I haven't been able to find it in store.
7. Maybelline Color Tattoos
I could get these in a colour each. If you read my April Favourites, you know I have been obsessed with wearing single eyeshadows and these seem even perfect as they would last longer on the lids in summer as opposed to powder shadows.
8. Nail Art Stamping Plates: (I forgot to include these earlier in the post even though these were my real motivation behind this year's wishlist!) My friend Jabeen from Jaybee's Journal commented about barsfashion.com on my Daraz Haul post where I had mentioned about getting a mini stamping kit, but it did not include any plates. I recently remembered about the website and the four stamping plates I am looking forward to buying are Qgirl-010, Qgirl-020, hehe-013 and hehe-026.
Don't forget to book an Ad. slot for June! Click
here
for details.
What is on your beauty wishlist? 🙂 x