Hey guys, I'm back! 🙂
I had an awesome trip which had extended due to fog and local rallies.
The weather up north was just so amazing! It was freezing and the fog painted the diorama of each day beautifully!
Due to extreme weather, we didn't go out much as my niece and nephew are very young and we didn't want them to fall ill. So, we stayed within Cantt most of days and me and my cousin often went out on long walks at night time as the Cantt of course is very secure. Though the whole setting was just so eerie as after sunset we could hear jackals! And my cousin's residence has an old graveyard opposite to it 😀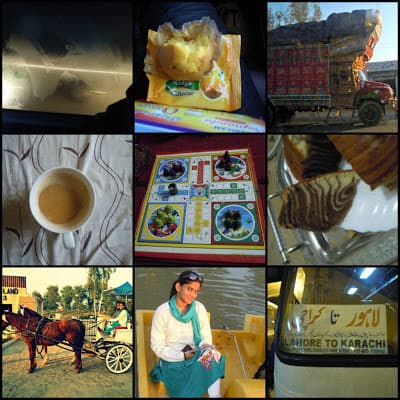 1. Misty Daewoo Window / 2. Yummy Mango Cupcake / 3. Truck / 4. Coffee / 5. Ludo / 6. Zebra Cake we baked / 7. Carriage Ride / 8. On boat / 9. Lahore To Karachi Daewoo
When indoors, we used to bake everyday and make either coffee or Kashmiri Tea. I couldn't get the pictures of most of the things we baked or cooked as they were in our bellies before we even knew it! 😛
We also did BBQ one night! ♥
Usually we used to stay up till late at night and play Ludo and teased each-other by saying, "kabhi toh aao Sarghoda khushboo laga k" (Translation: Come to Sarghoda sometime while wearing a fragrance) when we were to capture another player's counter. It's a saying I read behind a truck once! This reminds me that we have got beautiful truck art on Pakistani trucks and I saw many on my way in Daewoo but I couldn't capture a proper picture in a moving Daewoo plus the trucks themselves were also passing by rapidly.
We went out twice within Cantt on a carriage and that was "THE" best part of my whole trip 😀
First time we went to a kids' amusement park, called Fun-land, for our nephew There was a mini zoo there and we did boating! That was fun too!
And second time we went for shopping.
As for what I bought from there, I might include it in a collective haul in future because I didn't buy many things, firstly because we barely left Cantt, secondly because there is nothing that you could get there and not find in Karachi (my current city). So, whatever I bought was solely as souvenir for my family, friends and myself. I have given some of them out already. Mainly bought shawls, Marina shirt pieces and dry fruits.
I'm still extremely tired due to such a long journey of 18+ hours but I had to blog as this is the last eve of 2012!
2012 has been the best year of my life so far ♥
What about you? x
A very Happy New Year to all of you 🙂
Like my FACEBOOK PAGE for updates.
Check my sidebar to Follow Me Around & Grab My Button! x
Don't forget to comment, follow, subscribe! 🙂