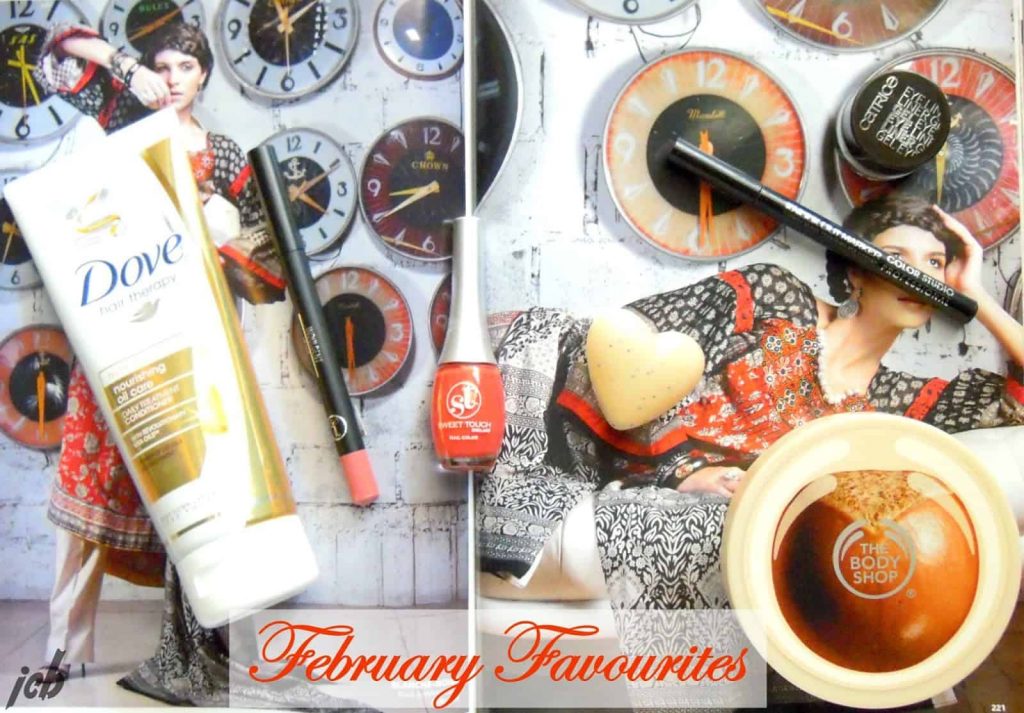 February is one of my favourite months as around this time of the year we welcome spring and the weather is just pleasant. Now, that February is ending, I am a wee bit upset because the city will soon heat up and I will also get busier with my academics until summer vacations in late June. Anyhow, that is a never ending rant so go ahead and check out my edition of top favourites for the month of February.

1) Dove Nourishing Oil Care Conditioner
If you have been sticking around for long enough, you might know that Dove conditioners are my absolute favourites. This nourishing one though was a newer one that I recently tried and it makes my hair look healthy. It is two in one as it has an oil 'treatment' as well as the 'conditioner'. If you want me to review this in detail, let me know and I will do it for you. 🙂
2) Sigma Lip Base – Indulgent* (Review & Swatch) (Shop)
Such mauve pink shades make the best nude lipsticks for our subcontinental skin tones, but Indulgent would still look good on everybody. I have been loving it for everyday wear because it's matte yet moisturising.
3) Sweet Touch Nail Polish – Bright Coral* (Review & Swatch)
I love my corals and even though I already owned the Color Studio Professional Bombshell nail polish, Bright Coral is a little lighter. I had been looking for this kind of shade for past few months because I remember seeing a girl wearing something similar once and since then my quest had begun. This was a part of Sweet Touch's Limited Edition collection, Love Expressions, that was out for Valentine's Day so you might not be able to get it now but if anybody knows a locally available good dupe other than CSP's Bombshell, please share.
4) Catrice Gel Liner & CSP Knock Out Marker Trick (Details)
Only recently, I talked about this eyeliner combo being my favourite as it has made my mornings 10 times easier and I can always nail my wings now! 😉
5) The Body Shop Chocomania Soap (Review)
This soap isn't only cute but also moisturising and I am seriously looking forward to abandoning normal soaps now as this made a visible difference in my skin's condition during winters.
6) The Body Shop Shea Body Butter
I am big on moisturising all year round and, even though, this is a body butter, I don't feel that it makes my skin greasy. I love The Body Shop most for their skin care range and these body butters are a must for my dry skin. Previously, I had reviewed the Chocomania Body Butter which was a special edition and had double the lasting power than this Shea one, but I love the scent of this better because it is light and ideal for daytime. Also, this body butter isn't bitter if you accidentally taste it on food after touching it (don't do that!).
This is my final post for February so see you all in March and be sure to enter my Ruby Woo Giveaway!
What have you been loving lately? 🙂 x