I fell in love with
Jeffree Star Velour Liquid Lipsticks
a year ago when I got
Gemini
for my birthday and bought three more soon after. That left a dent in my pocket and I skipped buying most of his other releases for the rest of last year. 
Jeffree Star
and
Manny MUA
are my two favourite men in makeup so when I found out about the
Jeffree Star and Manny MUA collaboration
, I was ecstatic.
I'm Shook
particularly got my fancy because it looks so similar to
Kylie's Kristen
which I had been eyeing for a while but this costs lesser and I am not the biggest fan of Kylie's formula.This was the first time Jeffree has collaborated with anyone and Manny is a complete opposite of Jeffree when it comes to makeup since he likes to play safe. Therefore, the collection looked pretty good and wearable for most people.
Daddy
was the more popular shade of velour liquid lipstick from the collection and it sold out quickly. However, since I am still new to greige lipsticks, I wasn't really excited about it. I do want to add
Jeffree Star Skin Frost
in my collection but I would rather go for something gold toned than
Eclipse
.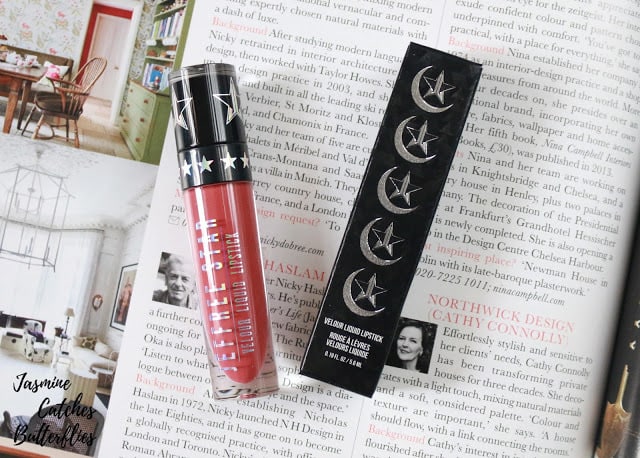 Jeffree Star x Manny MUA I'm Shook Velour Liquid Lipstick Review
I contemplated if I needed another one of his liquid lipsticks just yet and initially decided to let it pass. I'm Shook is such a gorgeous muted tone of red that I could not resist for long and caved. In swatches, it might look quite similar to Gemini and Rose Matter but on the lips, it definitely looks red. Jeffree describes it as a medium toned burnt coral and that is spot on.

The formula this time around feels different to me. I mean I would not say that none of the other four lipsticks that I own have the exact same formula either but they are quite moisturizing. I'm Shook, on the other hand, feels drier to me. It is workable but I wish it was as nice and soft as Gemini. I have no complaints when it comes to opacity and the lipstick barely transfers. It stays put for the most part but requires touch up between meals. The good thing is it is still easy to layer and does not get flaky.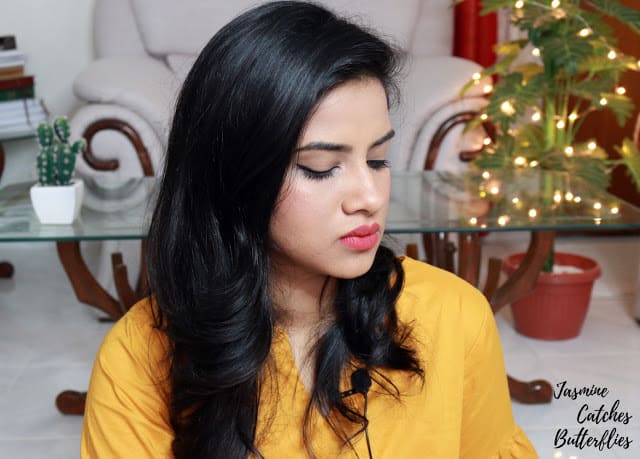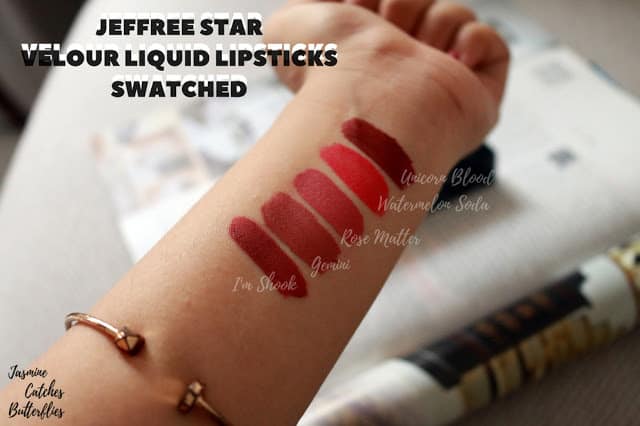 Jeffree Star Velour Liquid Lipstick Swatches
I'm Shook, Gemini, Rose Matter, Watermelon Soda, Unicorn Blood
A lot of people reported the lipstick has no scent to it but I do smell something florally and chemically. Odd, I know, but luckily it is not bothersome and is only detectable if sniffed closely. Talking about the packaging, it does not only look gorgeous but also feels nice due to the embossed triangles. The crescent moon and star together certainly screamed Pakistani flag to me and I was actually excited since I live in Pakistan myself! :'D
Since Jeffree does not ship to Pakistan, I rely on local Facebook pages and therefore have to pay around 1000 PKR more than the original price for each of his velour liquid lipsticks. But that does save me the hassle of shipping and customs and my go to page is Indelath.
I am absolutely smitten by the shade itself that I even added I'm Shook in my recent Current Beauty Favourites video. You can watch it below.
If you would like to read my other posts on Jeffree Star Velour Liquid lipsticks, please do!
Jeffree Star Velour Liquid Lipstick in Gemini Review
Jeffree Star Rose Matter, Gemini, Watermelon Soda and Unicorn Blood Velour Liquid Lipsticks