Hi guys,
My exams finally ended this week and now I am back to blogging. Unfortunately, I have got a very short break from university -_- so I'll try to post as often as I can during this break. You might have noticed that I changed my blog's layout a while ago and I hope you all like this change better. There are still bits and bobs left and I'll try to get them done asap. Meanwhile, don't forget to follow me on bloglovin' here as GFC would be going soon. 🙁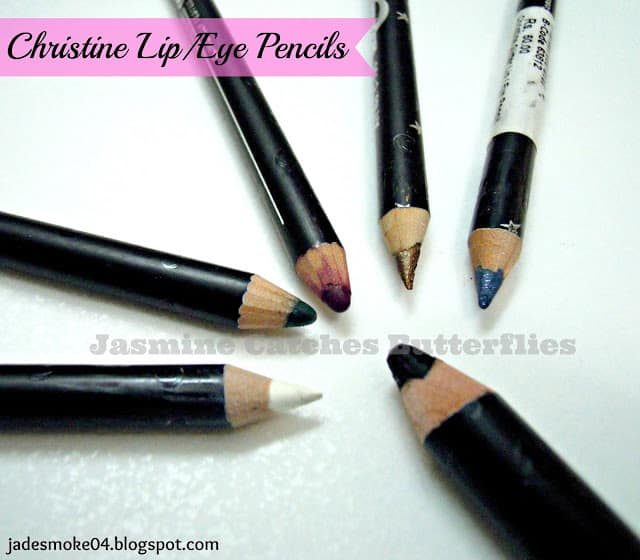 Now coming to today's review, a few months ago I was tempted to get myself some coloured pencil liners and I luckily ended up finding these Christine ones at Naheed. I got myself 5 at that time and had received the bronze-gold glitter one as a gift previously.
The shades are Kajal Black 580, which is the jumbo one, White Rose 407, Electric Pink 403, Green 374 and the blue and bronze-gold are glitter ones, coded CN-11 and CN-02 respectively. These are inexpensive and yet have good quality for their prices. You can check my haul here for the prices.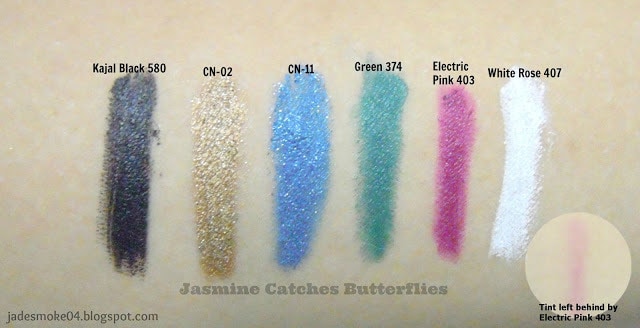 The Kajal Black 580, glides on smoothly and I bought this as it is ideal for smokey eyes. While, I actually bought the White Rose 407 for lining my waterline but it just does an okay job there. It definitely applies better on skin than on waterline like most light shaded pencil liners so I'll be using it more as a base for bright eye shadows.
Electric Pink 403 and Green 374 are the best of the lot. They have really good pigmentation and I use them for lining my lower lash line to add a pop of colour. Just like the Kajal Black 580, they glide on smoothly and stay put for a good 2+ hours. They fade but don't smudge much which is the best thing about them. The pink one leaves a subtle tint when it fades due to which you could go on longer without the need of re-application. You can see me wearing Electric Pink 403 in a make-up tag post here.
The glitter ones, CN-11 and CN-02, swatch well on skin and are easy to apply on eyes like the rest of the lot but they don't show up as beautifully as they do on my hand. They have a creamy consistency and perhaps tend to smudge a bit more for that reason. All this was a bit of a disappointment for me as they costed a little more than the matte ones so I'll be getting more colours in matte in future rather than these.
My Rating

Hope you liked this post! xo