I am into skincare more than ever at the moment and my skin is at its best right now! Therefore, I fancy sharing with you guys some of my favourite skincare picks from YesStyle. YesStyle is a beauty and fashion portal with a wide range of products for everyone. I am super excited to share that the YesStyle (PR – GIFTED*) reached out to me quite some time ago and very kindly asked me to choose some skincare items that I would like to try! This post is, however, not sponsored and I have been using all of these products for a long time now to share with you my genuine thoughts.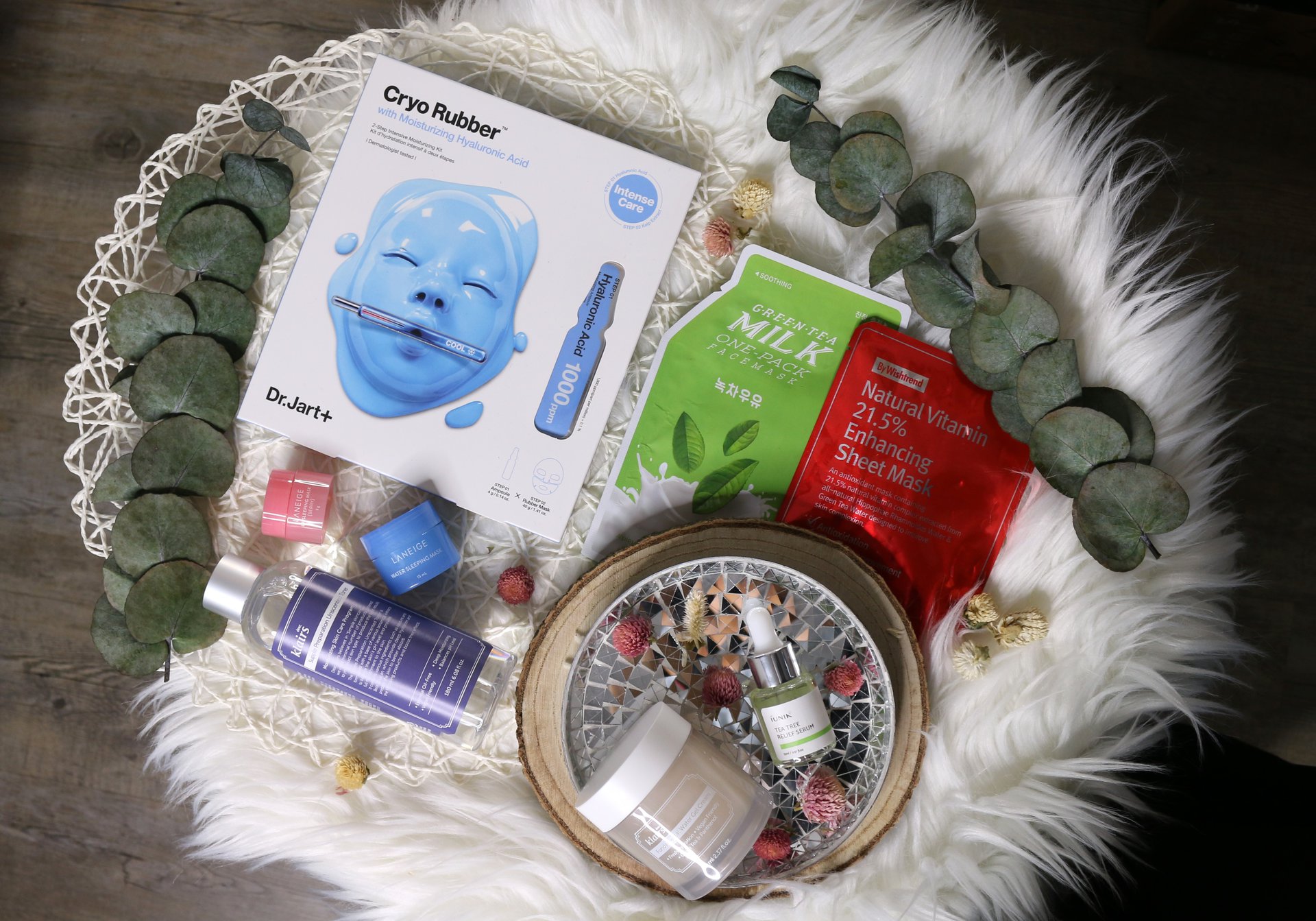 So without further ado, let's get into it!
A'PIEU Green Tea Milk One Pack Face Mask – 3.50 €
I am a sucker for sheet masks since I find them quick and easy to use and love using one pretty much every night before bed. This Green Tea Milk One Pack sheet mask from A'PIEU comes in a super fun packaging and was a treat to use. Pretty basic and inexpensive but left my skin feeling supple and hydrated. A'PIEU is a Korean Beauty brand and these Milk One Pack sheet masks come in 7 different flavours; Chocolate, Coffee, Banana, Strawberry, Coconut, Green Tea and White (which I believe is "Milk"). I definitely see myself stocking up on these in the future.
Laneige Berry Lip Sleeping Mask – 4.50 €
Laneige is one Korean brand that has been on my wishlist for a long time. I always saw beauty influencers singing praises about it but since it is on the pricier side, I found this a good opportunity to get my hands on this highly sought-after lip mask. After going through this mini tub of Laneige lip sleeping mask, I can say that I get the hype. It is a nice overnight lip treatment and I even liked using it under drier lipstick formulas. This is another product I see myself repurchasing.
Laneige Water Sleeping Mask – 4.75 €
This is another popular Laneige product that I have only seen positive reviews of. As someone who has dry skin, I had even higher hopes for this one, but I am sad to report that this was a letdown. I like the gel consistency of the mask but I did not find it to be as deeply hydrating as it claims to be. Also, I did not like how my skin felt and how accentuated my pores looked in the morning after sleeping with this mask on. I might give this another try in the future but for now, it is a miss for me.
iUNIK Tea Tree Relief Serum – 5 €
Tea tree oil is a staple in my skincare routine for effectively eliminating acne breakouts and even ingrown hairs. I love The Body Shop Tea Tree Oil and have talked about it on my blog in the past. So I wanted to try out this tea tree serum from iUNIK, which is another Korean brand, as a less potent alternative to the TBS tea tree oil. While this is a lot gentler on the skin, I do enjoy this product as an all-over-the-face treatment when my skin is feeling bumpy and has small under-the-surface pimples. Whereas my TBS tea tree oil is more suitable as a spot treatment.
Do note that this product is sadly not available on YesStyle anymore. I hope they bring iUNIK back on their website because they have some of the best prices to offer compared to other online shops that ship to Germany.
Wishtrend Natural Vitamin C 21.5% Enhancing Sheet Mask – 2.99 €
In the past, I have tried a whole bottle of Wishtrend Pure Vitamin C 21.5% Advanced Serum and it did not impress me but I still wanted to give this Wishtrend Natural Vitamin C 21.5% Enhancing sheet mask a go too. Well, it was not too shabby for a sheet mask but again I did not notice anything exceptional. So I guess this Wishtrend range will stay a miss for me.
Dear, Klairs Fundamental Water Gel Cream – 26 €
I love gel-based moisturisers and this Dear Klairs Fundamental Water Gel Cream was a staple in my skincare routine up until the last drop of it. It contains green tea and panthenol which are two great ingredients for soothing the skin, especially if you get eczema flares like myself. However, this moisturiser just smells awful like fermented rice water which was quite unexpected. But luckily it does not linger on the skin. I may or may not repurchase this just because of the scent alone.
Dear, Klairs Supple Preparation Unscented Facial Toner – 22.65 €
This is my second bottle of a Dear Klairs Supple Preparation facial toner since I have already used up a whole bottle of the scented version of this. The scented version just has more of an herbal/natural scent to it while this smells like nothing. I actually prefer this version somehow more but there is not much difference. This Klairs toner is my all-time favourite toner and is a must-have in my collection. It really helps in keeping my dry skin well hydrated and looking youthful. Get on it!
Dr. Jart+ – Cryo Rubber with Moisturizing Hyaluronic Acid – 15.65 €
This Dr. Jart+ rubber face mask comes in a few different varieties pertaining to different skin concerns but of course, I had to get myself a moisturising one. Getting this mask legit felt like getting my hands on a pot of gold because at the time, it was extremely popular and I would say rightly so. It is a really good mask for what it does but I would say that it is a bit too pricey and I have found way cheaper alternatives here in German drugstores. More on that, in future blog posts!
YesStyle is a Hong Kong based distributor of a lot of Asian beauty brands and ships worldwide. It has a lot of sales and nice bundle deals available all year round. If you live in Germany like I do, it would be nice to note that YesStyle offers free shipping for over 60 euros.