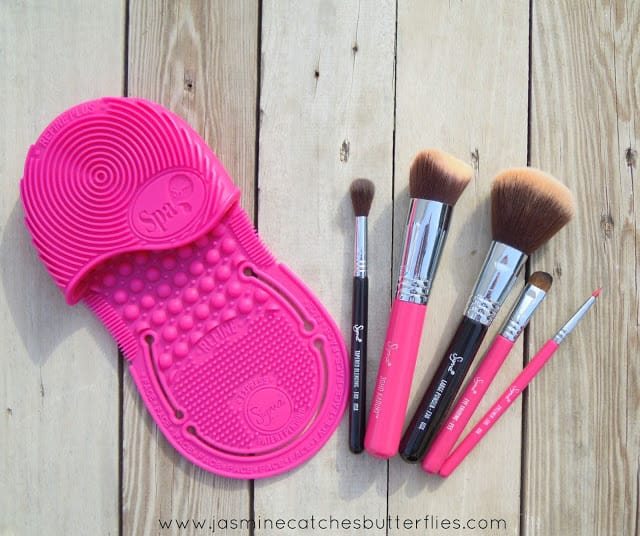 As much as we love applying makeup, taking it off and washing the brushes is such a chore. However, if you do not wash your brushes regularly and do not take care of them, they will not only house bacteria but also, you will be needing new brushes sooner. Therefore, depending on my usage, I wash my brushes on a weekly basis but some of them, like foundation brushes, require washing after each use for flawless application. Now, brushes for me are a huge deal, since I know how much of a difference they can make when it comes to makeup application. Most of my brush collection comprises of Sigma Beauty and these brushes are not that easy to get hold of locally, besides they aren't the most inexpensive ones out there either. I have had much of what I still have for around 2 years now and none of my brushes has shed or broken. So, in this post I walk you through how I have been washing and maintaining the longevity of my brushes by following a few simple steps. Also, I have included my review of the
Sigma Spa Express Brush Cleaning Glove
* as it has now become a part of my brush washing routine.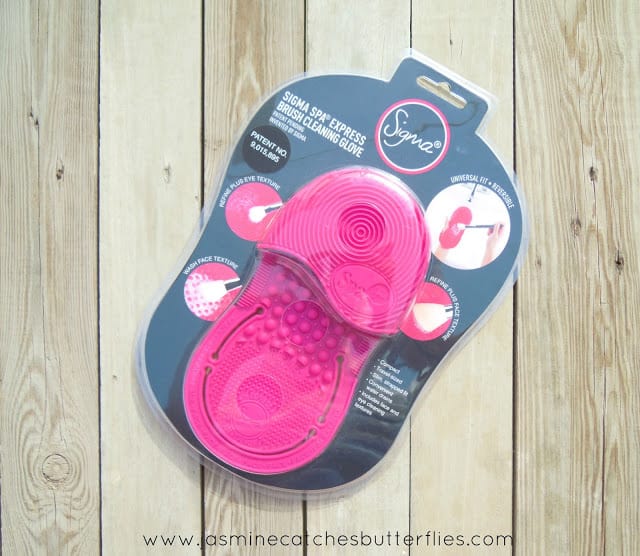 Sigma Spa Express Brush Cleaning Glove*
I have been washing my brushes using my palm for as long as I have been doing makeup, but this new addition in my collection has made the brush washing process fun. It is not a necessity, but it does make the procedure slightly more effective, without leaving my hand pruney. The Sigma Spa Express Brush Cleaning Glove comes in hot pink colour and has been designed in such a way that it can be worn in either of the hands. It has 7 patent textures labelled wash, rinse, refine and refine plus, three of which are different for face and eye brushes while refine is same for both. There is also an additional texture next to the thumb area for shaping the brush after wash.The glove is double sided as one has the face brush textures while the other has eye brush ones and it can be flipped inside out depending on which side you need. Note that you can use the eye brush side for any of your smaller brushes including lip brushes. The silicon ridges make sure to pull out the toughest of gunk from the brushes, leaving them squeaky clean. Spa Express is lightweight and travel-friendly, unlike its predecessors. I just find the face side a bit loose on my hand, but this is not a deal breaker. Overall, I really like this glove as it has made my life easier and I would suggest you to get one if you have a lot of makeup brushes to wash.
Price: $25
Availability:
Sigma Beauty
website
*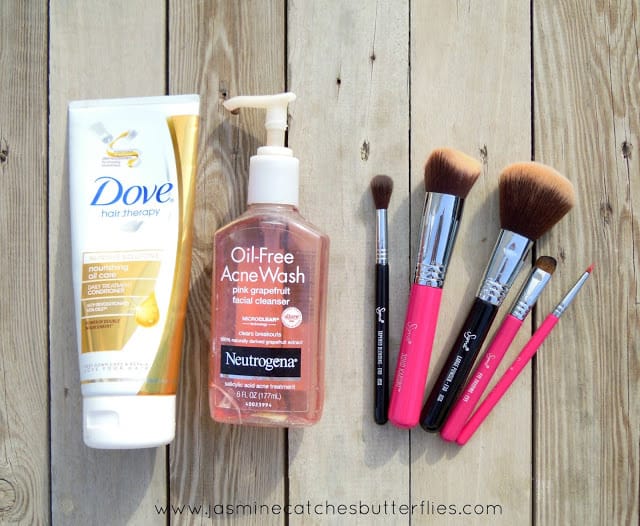 Cleaning and Conditioning Agents
Over time, I have tried numerous at home cleaning agents for my makeup brushes and by far face washes are the best choice. I used to use an inexpensive Pond's one previously and now I use this Neutrogena one. I know this one is a bit expensive to be used like this, but actually I use the washes that do not suit my skin type and would go to waste, lying around otherwise. A lot of people use shampoos for their brushes, but I just find them difficult to wash out as compared to face washes. You do not want to use anything harsh on your bristles so make sure you use only a tiny or diluted amount of liquid washes. As for conditioner, I am currently using this Dove oil care one but just about any would do. The idea is you dilute the conditioner in a mug beforehand as direct exposure would again lead to difficulty in rinsing. I have also tried diluted oils for conditioning, but they always left my brushes greasy and I had to wash them again.
At the moment, I wash my brushes using just these two and my skin still does not break out. However, if you are into antibacterials, which I personally feel are gimmicky more often than not, dilute some Dettol along with your conditioner and you will be good to go.
How to Wash and Dry
Step 1: Just wet the bristles of your brushes, making sure that no water seeps down the ferrule (the silver metal part) or handle as this is how the lifespan of your brushes shorten. If water goes into the ferrule, it loosens the glue and also damages the handle of the brush.
Step 2: Dispense a small amount of cleaning agent on your palm or the Sigma Spa Express glove and gently rub the brush on it, making sure that the hand you are holding the brush with is always dry so that the handle does not get damaged. In between soaking and rinsing, while the bristles are still covered with suds, I like to dip my brush for less than a minute in the mug of diluted conditioner water. Ideally, I would place 2-3 soap soaked brushes in the mug before picking up the first one again, to rinse completely. This way I do not have to overwash my brush bristles to thoroughly wash the conditioner off and they still remain soft.
If you are using the Sigma brush cleaning glove, follow through the different textures as you rinse and refine your brush bristles. If you aren't, make sure you have completely gotten rid of the very last bit of soap by rinsing and squeezing your brush bristles over and over until you don't see any more product coming out.
Step 3: Squeezing out excess water from your brush by holding it between your thumb and index finger, as shown in the photo collage, does not only help in faster drying but also in maintaining the shape and quality of the bristles.
Step 4: Now, I like to cover a small mat with a couple sheets of tissue paper and swirl my freshly washed brushes on it a few times so that more of the remaining water is soaked by the tissue. Using a tissue instead of just mat ensures that your brushes stay clean as mats themselves have a much higher chance of bacterial growth due to dampness.
Step 5: Let your brushes rest upside down against a wall or support as they dry under a fan or well-ventilated room. This will further ensure that no water runs into the ferrule and also this way the water will still come down faster which will help your brushes to dry speedily.
Throughout the day, as my brushes are drying I like to turn them around to change sides so that they get an even exposure to air. This way even densest of my brushes dry in maximum 4 to 6 hours.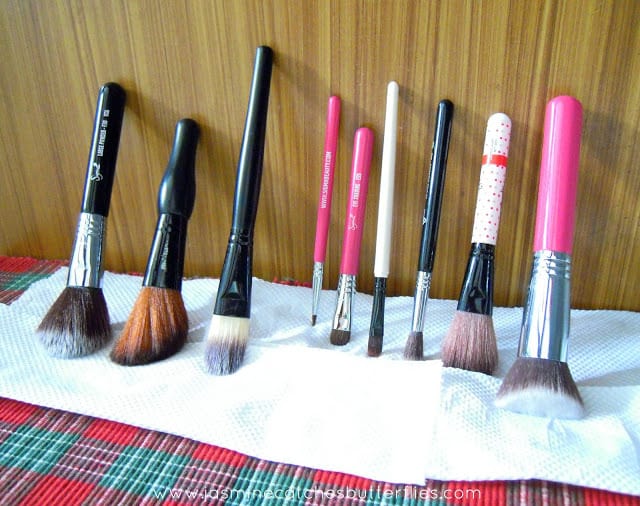 This was the third and final post of the day since it is my blog's 3rd anniversary! I hope you enjoyed reading and stay tuned for more fun posts throughout September! 🙂
How often do you wash your brushes?