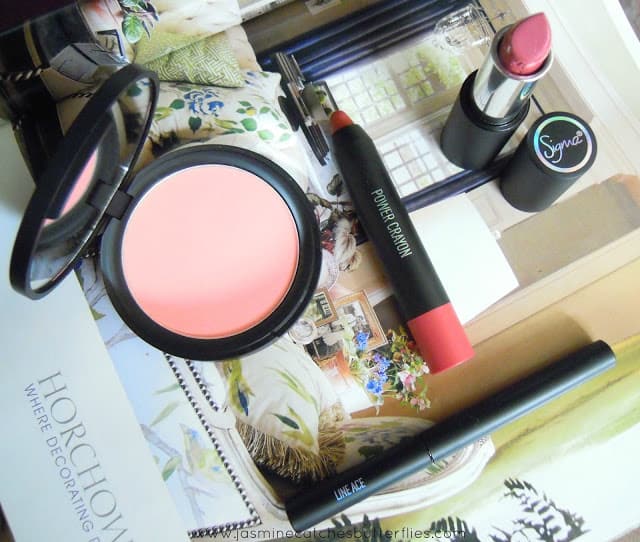 SigmaBeauty Makeup
PR Samples* Affiliate Links*
Remember the time when Sigma only did brushes and they were all the rage until they started collaborating with YouTube gurus and even brought out eyeshadow palettes? The brand has since proved itself by always coming up with unique ideas and the year 2015 marked a fantastic evolution in terms of makeup ranges. The most noticeable range that brought in heaps of new releases came out in October, called Sigma Pink, which as you can tell was for breast cancer awareness.
The makeup in the collection is luckily here to stay and none of it was limited edition. Sigma Pink brought with it Aura Powder (face powder), Embellish Lash (mascara), Line Ace (eyeliner), Power Crayon (lip crayon), Power Stick (lipstick), Power Liner (lip liner) and even Lip Eclipse (liquid lipstick). From the name you might think that all of it must have been PINK but Sigma is a wise brand and while they do have a HOT PINK as the signature colour, each of those makeup categories mentioned house a variety of shades to choose from in order to please a wider audience.

I picked four products for myself and even though I felt extremely overwhelmed at that time going through so much makeup to choose from, I have been kicking myself since for missing out on the Lip Eclipse liquid lipsticks and the Power Liner as they have some pretty shades. Basically, when Sigma collaborated with Camila Coelho for the NightLife collection I was ecstatic to see the addition of their first ever lipstick. In the past, I have enjoyed using the Fall Softly Lip Bases and Lip Glosses so I couldn't wait to try out more lip products from them. Still, I am glad I got the Power Stick and the Power Crayon because just as I expected, they didn't disappoint.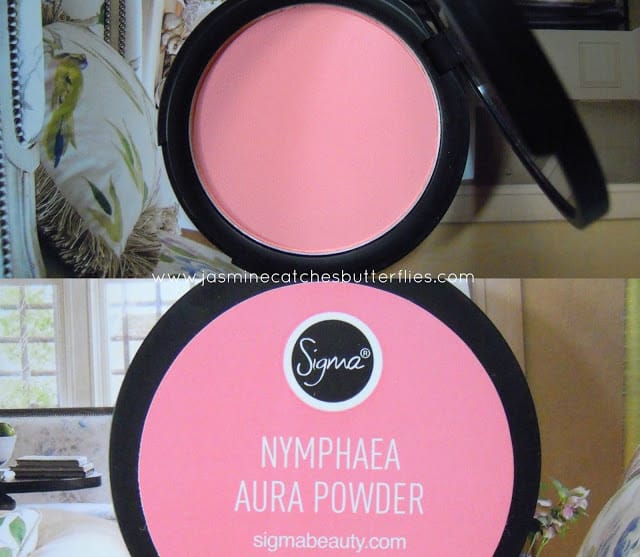 Sigma Beauty Nymphaea Aura Powder
Aura Powder – Nymphaea
Aura Powder is a face powder from Sigma that comes in six different shades so some can be used as blush while others as a bronzer. The concept behind this is that it enhances your facial features subtly but it was the name that sold this to me. I went with Nymphaea which is a matte baby pink shade so it makes a lovely light, everyday blush for fair skin tones. However, according to the photos online, it seemed more of a dusty pink and Sigma describes it as a light coral so this indeed was a bit too light for my own liking and I don't get enough use out of it for that reason. Nonetheless, the packaging is sturdy with a good pan size and a large mirror that I love. The product itself has an average lasting power but since it is matte with no shimmer whatsoever it would be liked by most people.
Price: $19
Quantity: 8.48 g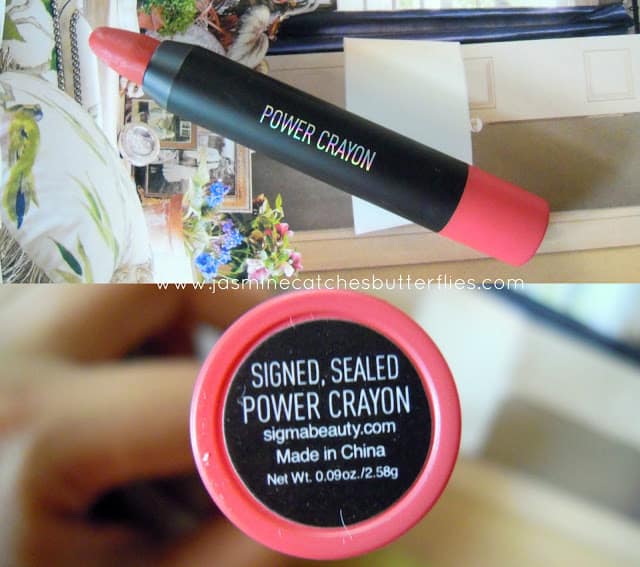 Sigma Beauty Signed, Sealed Power Crayon
Power Crayon – Signed, Sealed
This is a twist-up lip crayon that comes in a plastic body and is available in
six shades
. Gosh, this is as good as Sigma gets when it comes to makeup. The product is again of a good size and glides on lips like butter. Signed, Sealed is a beautiful terracotta red with brown undertones which Sigma describes as a soft dirty rose red and as the name suggests it looks like sealing wax red. In my opinion, the shade is also a toned down version of Chili by MAC. I find the crayon to be hydrating on my lips and a little goes a long way. That POWER is quite impactful in terms of pigmentation as you won't need to go over and over for building up the colour. One swipe and it's there. It is not matte or a lip hugging product so obviously, it can smear and fade during the day with eating and drinking but leaves behind a little bit of stain, though I wouldn't say it can last all day long.
Price: $15
Quantity: 2.58 g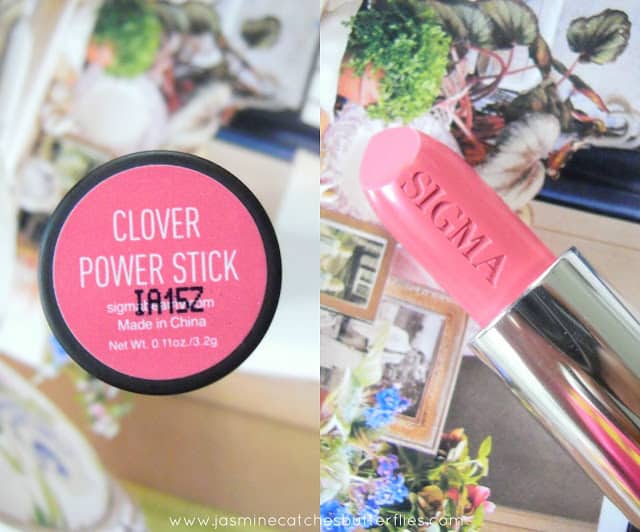 Sigma Beauty Clover Power Stick
Power Stick – Clover
Another phenomenal lip product by Sigma and the chunky metallic bullet with a magnetic cap, so it stays safe on the go, and SIGMA engraved on the actual product makes this lipstick all the more luxurious. The Power Stick is available in
six shades
as well and the formula isn't matte rather satin that goes on easily and still lasts. Clover is a beautiful pink with a little bit of mauve and it makes a pretty neutral shade for my complexion which is still bright. I like it just as much as the lip crayon in terms of formulation and even pigmentation.
Price: $25
Quantity: 3.2 g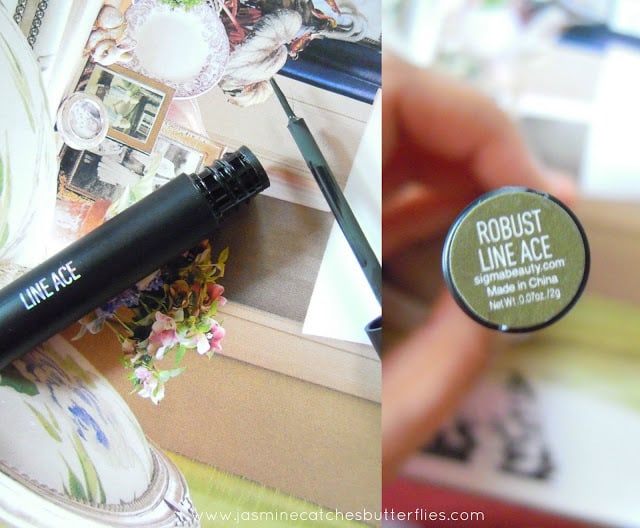 Sigma Beauty Robust Line Ace
Line Ace – Robust
I have been using Line Ace for the longest period of time out of all the products mentioned as it even featured in my End of Year Favourites. This also comes in six cool shades and you know I am a nutter for brown liners but I do have a couple in my stash already so naturally the next shade I wanted to add was a dirty olive green like Robust to flatter my brown eyes. The eyeliner packaging is made up of plastic with a long cap that has the applicator and a similar slim tube containing the actual product. The brush head is not the thinnest of its kind but I personally like it as it is easy to work with and it does not take multiple swipes for building up the product. Line Ace dries matte and holds up quite well throughout the day but if you have oily lids then make sure to prime and powder. When I used it for the first time, it flaked on me even though it isn't supposed to and it did not ever again so I am not sure why that happened initially but I might have rubbed my eye. Anyways, after months of using it, I would say this has to be my favourite liquid liner of all times.
Price: $14
Quantity: 2 g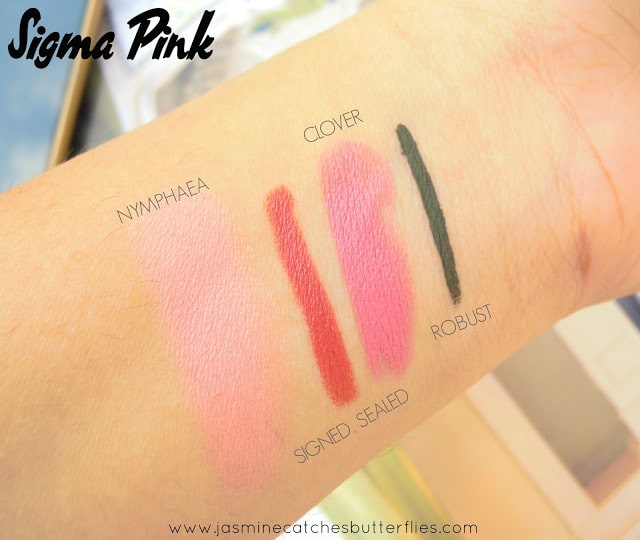 Sigma Beauty Makeup Swatches
So, isn't that title true? I am certainly in love with Sigma's makeup range and would whole-heartedly recommend it to you all. It seriously feels underrated to me and you have to try out the lip products if nothing else for sure. You can buy all of the products mentioned on Sigma Beauty and avail 10% off with the code SIGMA2016 at the checkout.

Follow
(function(d, s, id) {var js, fjs = d.getElementsByTagName(s)[0];if (d.getElementById(id)) return;js = d.createElement(s);js.id = id;js.src = "https://widget.bloglovin.com/assets/widget/loader.js";fjs.parentNode.insertBefore(js, fjs);}(document, "script", "bloglovin-sdk"))

(adsbygoogle = window.adsbygoogle || []).push({});