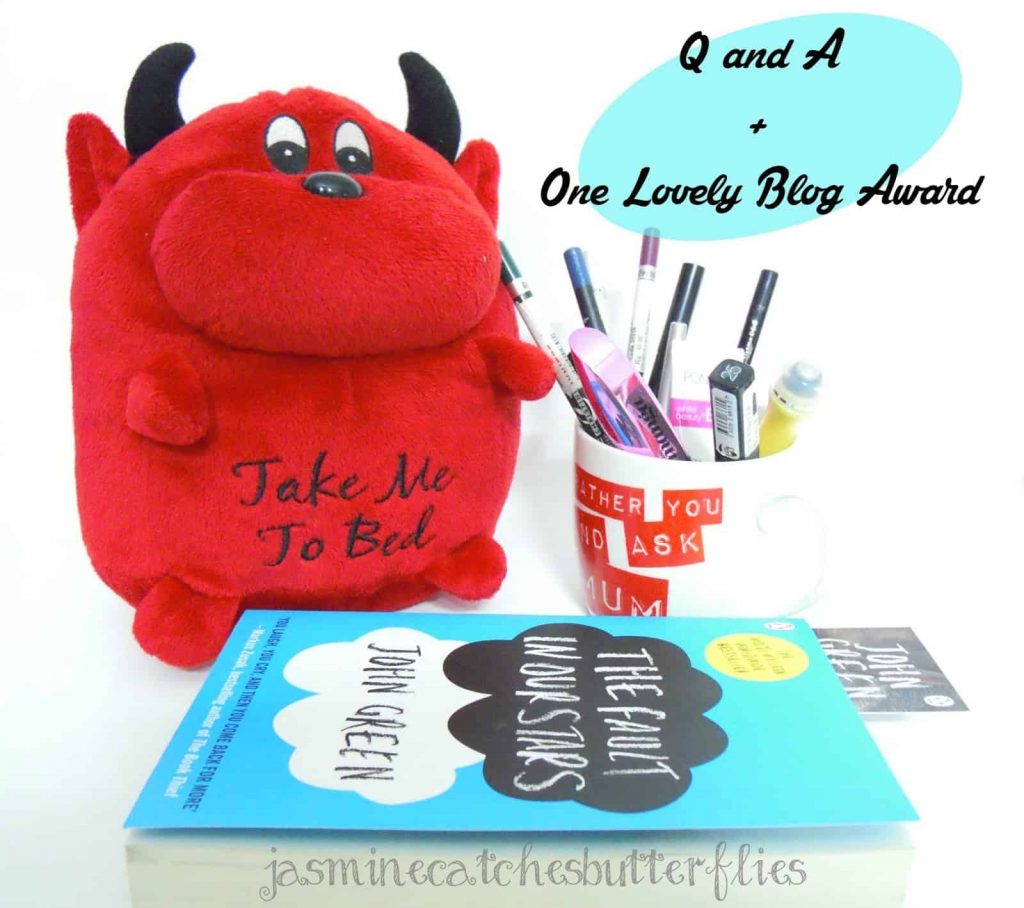 A few weeks ago I was nominated/tagged by a dear friend of mine, Noor from Noor's Place for One Lovely Blog Award. Thanks, love! Now over the past years, I have been tagged for various awards so many times that I stopped posting about them as they got repetitive. So it has been a while and I decided to change things up a bit, therefore, asked people on my social media to ask me what they would like to know about me. I mistakenly thought I was supposed to spill 15 facts but actually, I am only supposed to tell 7. Coincidentally, there were 7 questions I got altogether on my
Twitter
and Instagram so here are my answers. 🙂

1) Narrowing down is impossible! I have a very versatile fashion taste, but I usually prefer either an elegant look, be it dark or creme OR I love my brights, talk about rebellious pieces. So you see naming one is a tough call. Especially because when we talk about our designers it's not just restricted to Karachi. But if I specifically pick one from Karachi itself, I'd say Huma Adnan because I feel her clothing line is funky and practical at the same time.
2) Yes, they do! 🙂 Initially they couldn't get their heads around it (yet supported) but now they love telling others about my blog too!

3) I am currently doing Bio-Medical Engineering and it is about designing machines used in hospitals, prosthetics and stuff like that in a nutshell. I had set my heart to this field when I had to choose subjects for my O'levels. The Gemini nature of mine can never settle for just one thing. I have always loved juggling between biology and maths. I didn't want to be just an engineer or a doctor. I hated maths all through school life, but studying medical on its own at this stage would have gotten boring. As I advanced academically, I realized how much I love genetics, however, undergraduate programs are rare for the field so Bio-Medical Engineering stayed my number one appealing option. I look forward to developing something that will help humanity because this field is very interesting and has a vast untapped area. It is also a suitable option for taking up genetics later in life and then I will be cloning myself. 😛
I don't believe in restricting myself to a particular career though and I am not studying to earn a living. I will still be running this blog and may make an extension into the industry.

4) Up and up. Good? Many! More than working with so many brands, I treasure making some very cool friends. 🙂 As for the bad ones, there have been just a couple and nothing worth mentioning in detail. I've never had bad feedback from any of my butterflies nor I've been bullied. Only some brands have been a pain. I strongly dislike when people copy images or ideas and don't give credit. That from brands is so much more annoying. I feel some companies need intense grooming. Nothing bites me like an unprofessional attitude.

5) Any time of the day babe! I'm guilty of almost eating pizza pamphlets at odd hours when I had cravings as a kid. Nobody in my family craves midnight meals so I have no one to be my partner in crime!

6) Cleaning? I don't do any on daily basis because I'm not home all day, but when I do occasionally clean my room (that sudden 2 AM cleaning craze), I know how bad our maid is at it! 😛

7) I have a terrible sleep routine as you may have guessed. 😛 I'm up until wee hours and then get up early too due to university, getting only 5 hours of sleep most nights. At max 6. So, I'm pretty drowsy after uni and I often doze off after 7 for half an hour or so depending on my homework schedule. Pretty bad, I know. On weekends, I try sleeping till afternoon but thanks to our lovely maids and the constant on/off of light, fan and opening and closing of doors that sleep remains a dream.
Now it's my turn to tag and here are my 15 nominees for the award whom I have never tagged before:
Kimamely Blog,
Lauest Blog
,
Got Meghan's Blog
,
Fashion Worked
,
GlamUpGirls
,
The Syeda Sisters
,
MadiMakeupLife
, Bows for Justine,
Chloe Logan
, Paperback Planes, Bobs & Rouge,
Bows and Buttons
, The Pout Painters, Leah Talks, Sunday Fryed
The boring bit (RULES): 
1) Thank the person who nominated you and include a link to their blog.
2) List the rules and display the award.
3) Add 7 facts about yourself.
4) Nominate 15 other bloggers.
5) Follow the blogger who nominated you.
If you would like to know anything else, feel free to ask! 😉