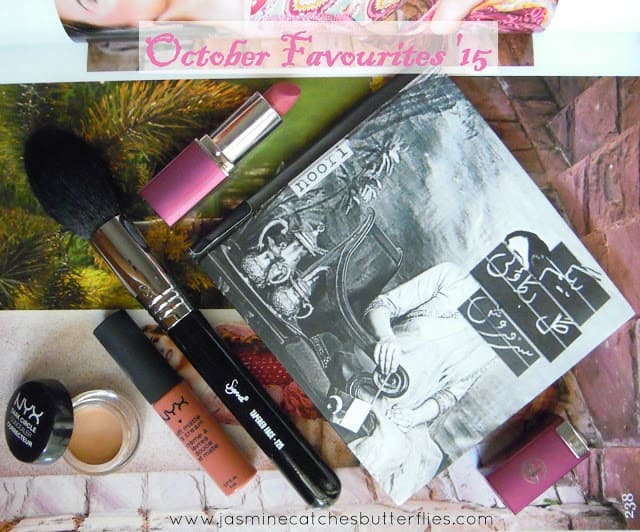 October this year went by in a weird way. A lot of doors opened for me but I was quite busy to enjoy life to its fullest. Nonetheless, I managed to like some of my new goodies including NYX stuff from my
birthday haul
. Sorry that I haven't been able to review them yet, but you can get an idea in today's post. Hang tight, I will try my best to post more reviews during November.
1. NYX Dark Circle Corrector – Deep:
I have been in need of something like this forever. Now even though,
Masarrat Misbah Silk Foundation
and
Maybelline Fit Me Concealer
do a good job of hiding my dark circles as a combo, they tend to be heavy and well this just takes one step. I would like to test this out a little more before giving a final verdict, but so far so good.
2. NYX Soft Matte Lip Cream – Cannes: No joke, this is the best lip product formula I have ever tried. I can't sing enough praises of it but I will just hold myself back until I review it in detail. For now, all I have to say is that I need a lifetime supply of this very shade.
3. Sigma Beauty Brush – Tapered Face F35*:
This fella is so soft and perfect for a light dusting of blusher. During this time of the year, I am toning it all down so
Sigma Beauty F25
has come in handy. Besides, this covers so much cheek area in a go that it saves time too. Read my
full review
for more.
4. Sweet Touch England Lipstick – 773 Matte*:
This lipstick goes with everything in my life. I have been wearing it a lot towards the end of October, especially with muted, monotoned outfits and it just looks so professional. You can check my
full review
 for details and swatch.
5. Noori Begum Gul Bakaoli Sarfarosh – Music Album: This is Noori's latest offering and firstly I am so glad a Pakistani band is at least back on track with TRACKS! After cassettes, CDs too now are becoming history due to a high rate of piracy but Noori still wanted to come out with these. They actually wrote a sweet note that comes with this cool vintage looking booklet as the album cover mentioning how they burned each CD themselves.
I wouldn't have really gotten one of these myself, but I had asked a friend to get me two at the BGBS launch event for my brother's friends and he ended up getting one signed for me. It was a cool surprise so I got to keep this and since then I have ordered a bunch more for people in our circle. The album has been released in the spirits of patriotism and rebellion. My favourite songs are Pinjra and Aik Tha Badshah.
Share with me your monthly favourites in the comments or on Instagram and Twitter.
Happy November!