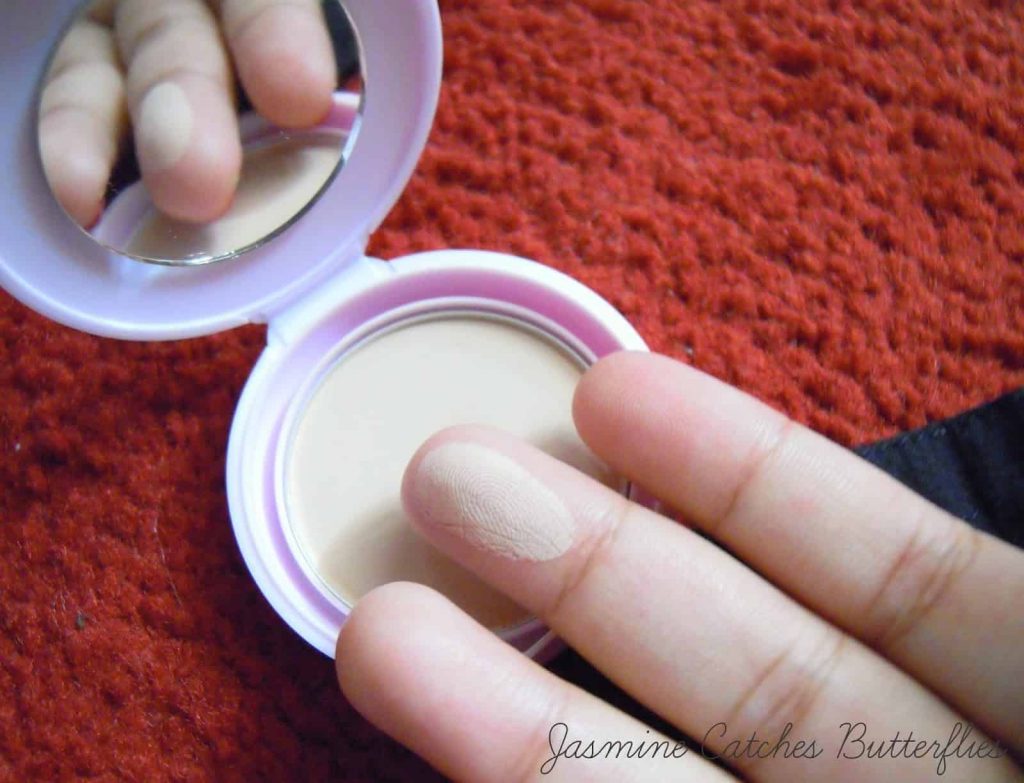 Maybelline New York Clear Smooth All In One Shine Free Cake Powder – 250 PKR*
(Natural Lighting)
Maybelline New York Clear Smooth All In One Shine Free Cake Powder comes in two different compact sizes. One is rectangular and contains 9 grams of the product while other is its round mini edition which contains 3.5 grams. Today I'm reviewing the latter, which is called a 'To-Go' version since it's easy to carry around even in the smallest of purses! The simplistic looking lilac pink plastic compact, which reminds me of toy makeup, does not only occupy little space but is also sturdy. Though, it has a tiny mirror which could have been bigger in diameter to fit in the whole lid of the compact so that one could actually see their face, and a small sponge which I do not find very useful either since it's too dense and rubbery for my liking and barely deposits any product on the skin, so I use a powder brush with it.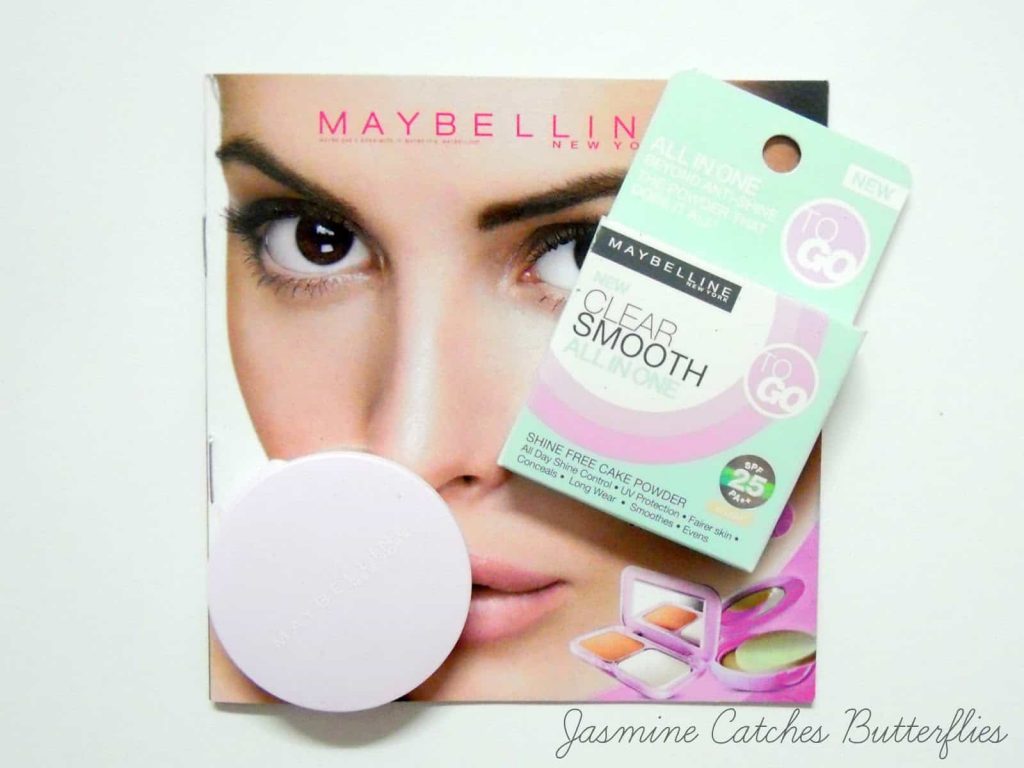 Onto the actual product, this cake powder is available in 5 shades with warm undertones, especially developed for South East Asian skin tones. The shade range seems very limited, but the fact that it is for eastern skin tones particularly, makes it sound acceptable. The shade that I got in my goody bag from its launch event is 01 Light which looks much lighter than my skin tone, but still blends in fine with or without foundation. It has a light coverage but is good for setting makeup as my main concern in this heat are tiny sweat beads which instantly begin to form upon makeup application and with this powder I noticed a significant decrease in that. My skin is combination/dry which has been behaving well lately, that is I currently have no dry patches and my face only slightly gets oily. Bearing this in mind, the powder stays put for up to 3-4 hours, but after that a little touch-up is required. So for the oily skin lovelies, I believe the touch-ups would be more frequent but otherwise it adds a nice matte finish without being cakey. It has a very faint floral scent which is only detectable if you sniff the pan, but is not at all sensed when applied.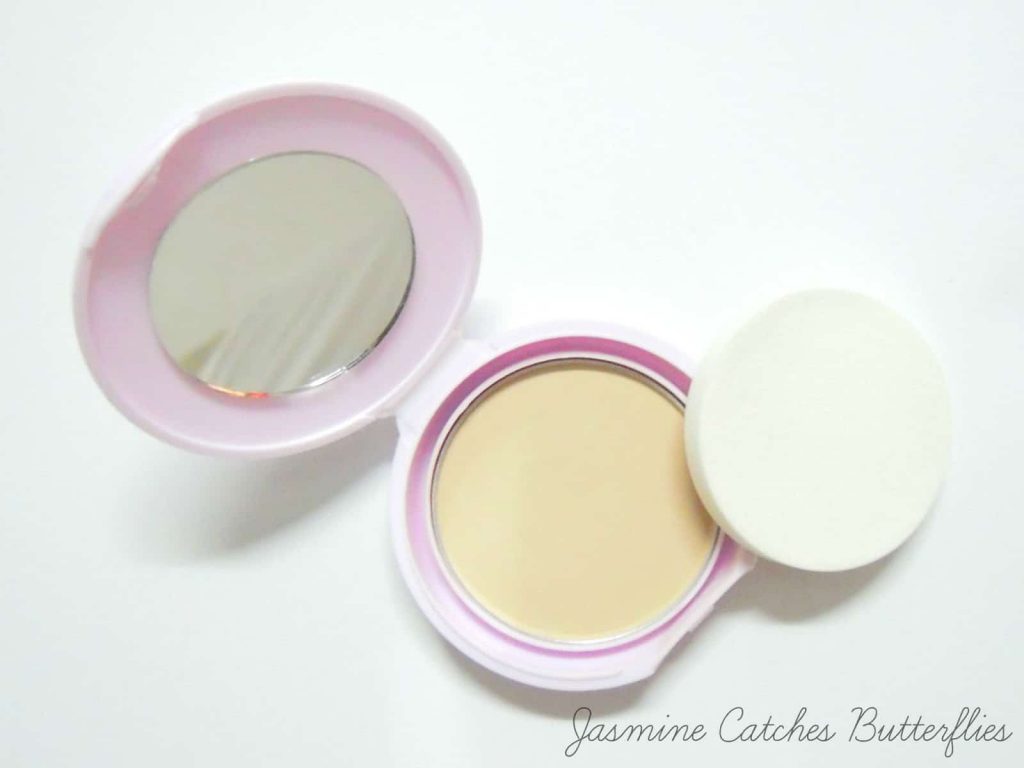 Maybelline New York Clear Smooth All In One Shine Free Cake Powder
(Artificial Lighting)
Lets quickly go through the 8 claims that Maybelline makes about this powder and see where I contradict.
1) Shine Control: Yes! Discussed it above already.


2) High UV Protection (SPF 25 and PA++): SPF is for UVB and PA++ is for UVA rays, this is a major plus and it does not even look ghostly in flash photography! Though, I still won't recommend skipping sunscreen, especially if you spend lengthy hours outdoor.
3) Instant Fairness (Infused with Pro Vitamin C): I didn't really notice anything extraordinary here.
4) Imperfections Blend Away: As mentioned above, this product has a decent coverage for a powder but it won't cover up anything major.
5) Long Lasting: Again, 3-4 hours is decent but not too long.
6) Visibly Smooth Complexion: This soft pressed powder does smooth out complexion to some extent as it provides a little coverage.
7) Conceals Blemishes: It's getting repetitive now. No, it doesn't make the skin look flawless, just a bit better.
8) Tone Perfecting: Well this is kind of amusing, even though I didn't get a perfect match for my complexion the powder still blends effortlessly without giving me a white cast or looking odd at all. So, I'll happily give this one to Maybelline for this is indeed pretty good for South East Asian tones.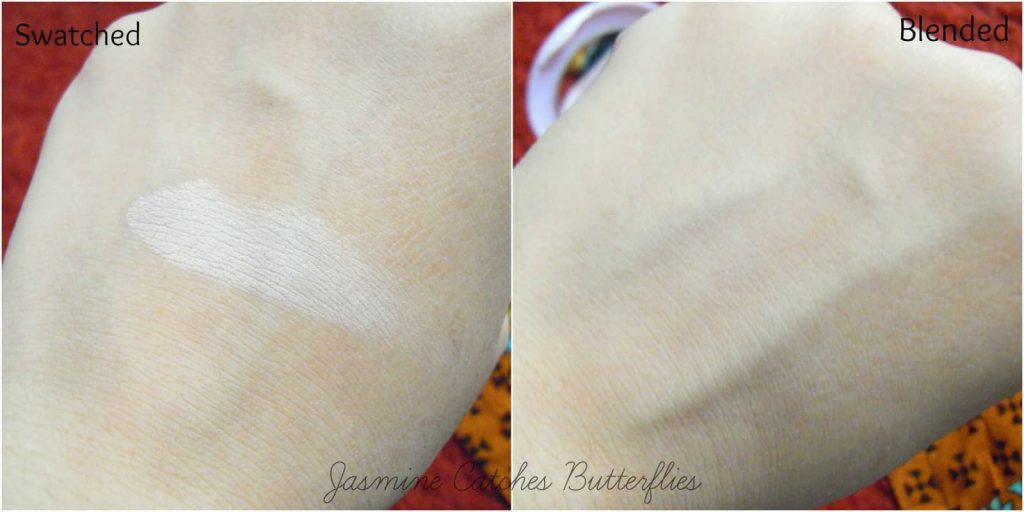 Blended seamlessly & gave very light coverage, though there really was nothing to cover here.
(Natural Lighting)
Honestly, I did not expect much from this product initially but after using it, I realized that I actually quite like it. I still won't say that it blew me away, but it's a very good budget friendly option.
Price: 250 PKR (To-Go Version) , 575 PKR (Rectangular/Bigger Version)
Availability: Maybelline counters nationwide.
My Ratings:

What have you been loving lately to keep the shine at bay? 🙂 x