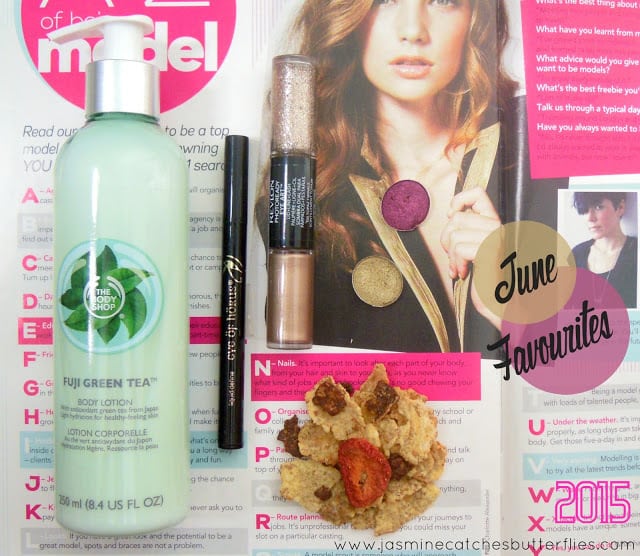 Another month went by and I should have been blogging more but thanks to KE and PTCL, nothing is as easy as it seems. Anyways, there are only a few things that I have been loving this month and I have already talked about most of them on the blog so this post would be relatively short.
1. Revlon PhotoReady Eye Art – Topaz Twinkle*
I love how convenient this cream eyeshadow is and how pretty it looks on the eyes. You can find my in-depth review on it that I posted this month only along with a glam makeup look.

2. The Body Shop Fuji Green Tea Body Lotion
The smell alone is so refreshing in this pathetic heat of Karachi. It is my go to pamper product of the month. Read more about it in my review.
3. Eye of Horus Liquid Define Liner*
You know I love my pen liners and even though this is not the best one out there as I mentioned in my review, it just has been in my stash and, therefore, this is pretty much all I have been reaching out for especially on minimal makeup days.
4. Purple and Gold Eyeshadows from Glamorous Face Palette
My two absolute favourite shimmery shades from the palette. The purple is deep and compliments my brown eyes while the gold looks cool-toned but transfers beautifully on the eyes. Both the shades are insanely pigmented and you can check out my swatches in a recent post about this palette.
5. Kellogg's Special K Chocolate and Strawberry
I have been eyeing this for a long time but never got around picking it until this month. Now even though we have been fasting for over past ten days, before Ramadan this was all I was eating for breakfast and it is the best cereal ever. My absolute favourite to the point where I sometimes eat it at times other than the breakfast. It contains bits of chocolates and dried strawberries, which look cool, but I do admit that neither tastes good. The chocolate tastes very artificial while the strawberries are sour but what makes me love it are the flakes of cereal themselves.
That's all, see, super short.
Bookings for July are still open. Click here to check my advertisement packages.
Let me know what you've been loving this June!