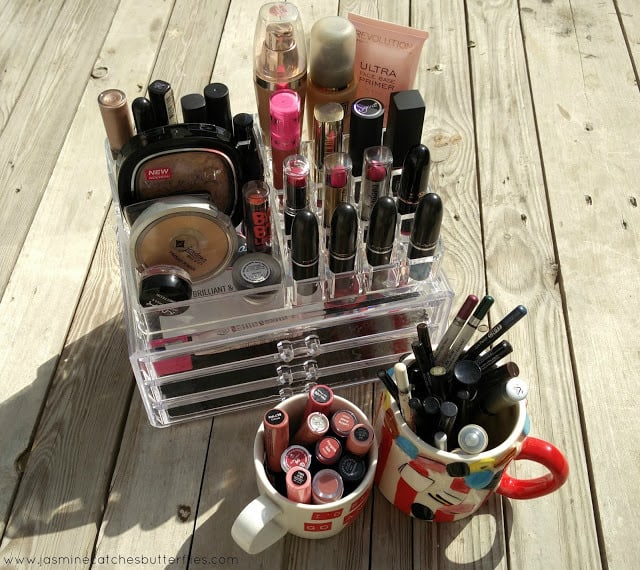 I don't have a huge makeup collection but I do have enough now that it gets difficult to keep track of everything I own. Of course, I want to make sure that I am using the things in my stash from time to time or else they would just collect dust and eventually go bad without getting the love they deserve. In order to do that, I have found three effective ways which prevent my makeup from going to waste.
1. Declutter
This is something that I do every 4 to 5 months by going through all my makeup products and checking what I have not used in a long time. At first, it is a bit tough to let go of some of the things because makeup lovers have sentiments attached to what they buy or as a blogger things that were sent very early on since they symbolise achievement. However, you are nothing more than a hoarder if you don't use what you have and still let it consume space. So, I pass on stuff like blushers and lipsticks that I know my cousins would love and bin stuff like eye pencils and mascaras.
Decluttering is quite satisfying and every time I do this it refreshes my mind as a cluttered stash can be very uninspiring.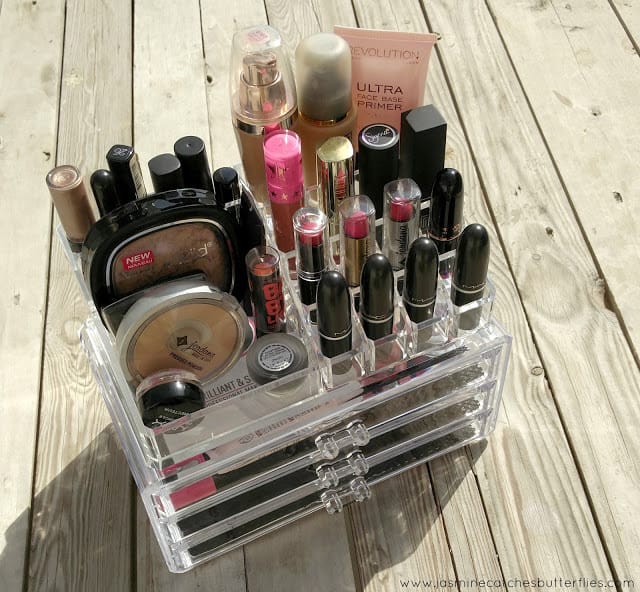 2. Makeup Organisers
Getting a makeup organiser is something I would suggest you to do right away if you struggle with using the things you want to but they slip out of your mind when you are actually applying makeup. This certainly has helped me the most because when I can see what I have on hand, I am more likely to use it as compared to when everything is hidden away in drawers. I bought myself a makeup organiser from Makeup House, which can be found on Facebook and Instagram, soon after a giveaway that they sponsored on my Instagram. I find their prices reasonable in comparison to other online sellers.
The makeup organiser that I got has two pieces, the top one has a lipstick tray with some compartments for other stuff and the bottom one is a set of three drawers. You can buy both of these separately as well and Makeup House also has other design variations. All organisers that they have are made up of good quality acrylic. I find mine to be sturdy though I thought it will get scratchy soon but it still looks as good as new.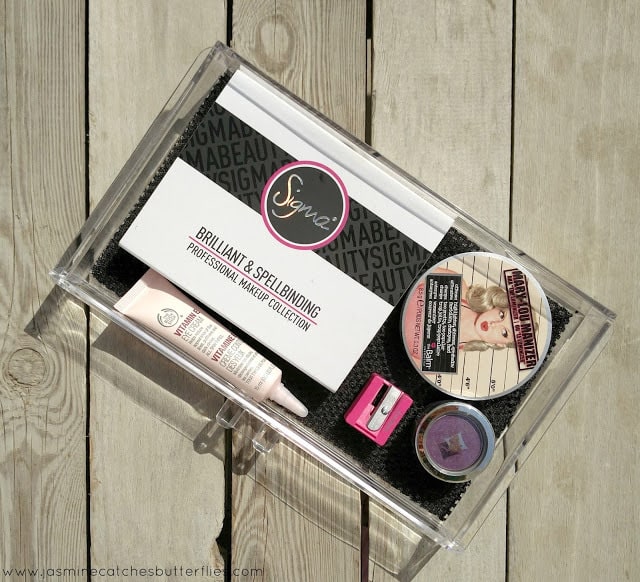 The lipstick tray has slots for 12 lipsticks and I keep my everyday essentials in the rest of the compartments so it does hold a lot of products. The drawers, on the contrary, are not ideal for storing more than one medium sized palette but you can put in multiple blusher etc compacts or eyeshadow singles. However, do not even think about layering.
The lipstick tray does tend to slide sideways if kept on top of the drawers because their top surface is not flat on the edges. So, you have to be careful with its placement if you want to keep them like that. Also, the drawers do take a little stabilising with a hand as they do not slide out easily and pull one at a time or else they can all easily collapse due to the weight.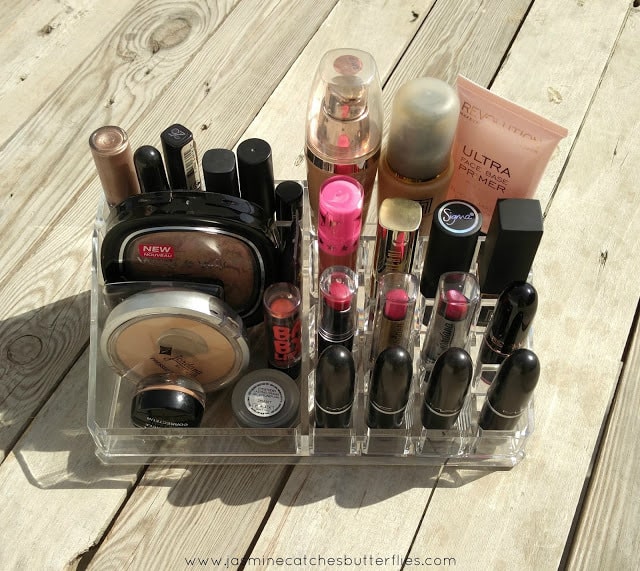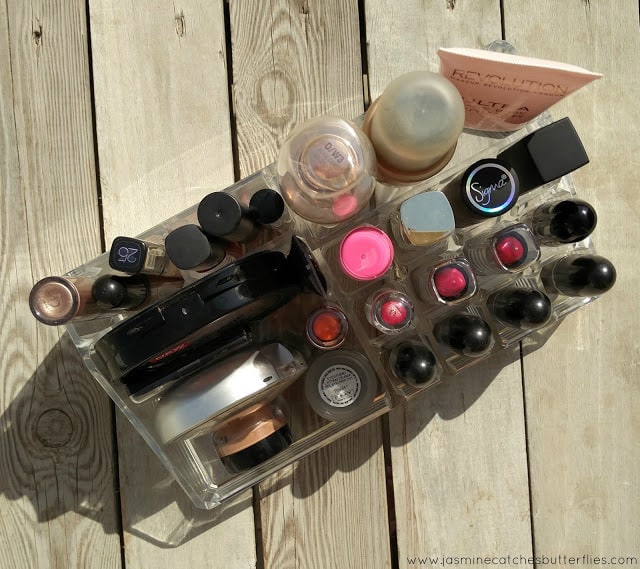 So out of both the pieces, I prefer the lipstick tray over the drawers but together they have made my makeup routine easier as products are more accessible.
Price: 2600 PKR, (Shipping: 400 PKR)
Weight: 3 kg
Apart from this makeup organiser, I store my most used, every day, drugstore lipsticks in one mug and all my pencil liners, liquid liners and mascaras in another mug. I keep most of the products upside down so that I know which is which when I have to get ready in a rush.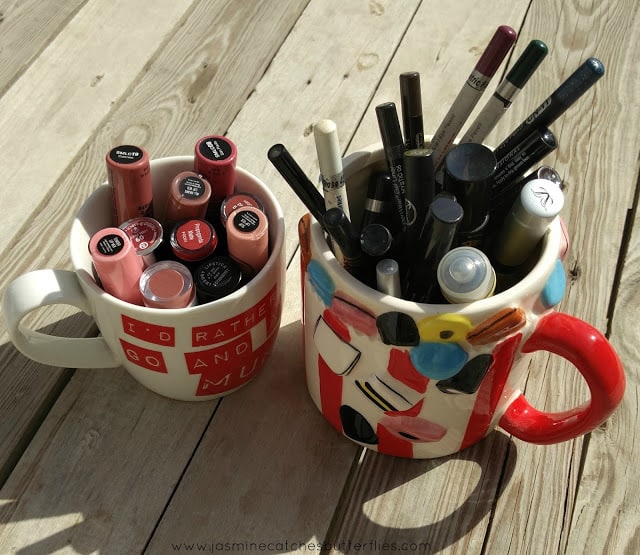 3. Switch It Up
Now obviously, I cannot have everything out on the top of my dresser at all times so along with my larger eyeshadow palettes, some other products are stored in my dressing table drawer. To make sure that I put them to a good use too, I switch products which are in my makeup organiser every 2 to 3 weeks. This way I am not wearing the same two, three looks forever and it also helps me to transition swiftly through changing seasons.
So, these are my three ways of keeping my stash organised, what are yours?

Follow
(function(d, s, id) {var js, fjs = d.getElementsByTagName(s)[0];if (d.getElementById(id)) return;js = d.createElement(s);js.id = id;js.src = "https://widget.bloglovin.com/assets/widget/loader.js";fjs.parentNode.insertBefore(js, fjs);}(document, "script", "bloglovin-sdk"))