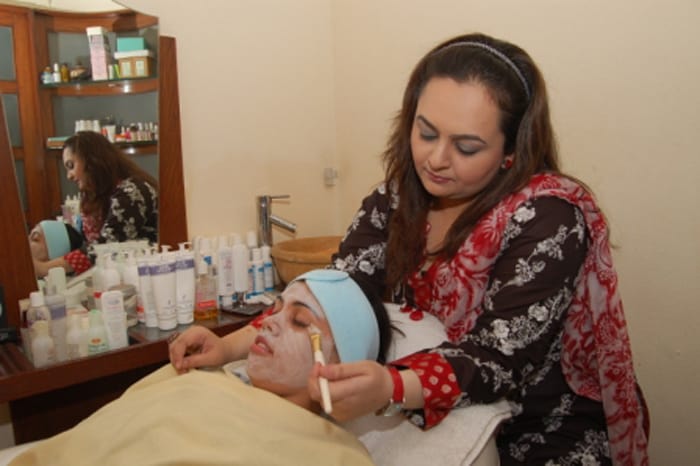 Dr. Najjia performing Vella Treatment
I was recently introduced to Cosmo Derme which is a new Karachi based company that provides a number of cosmetic treatments for people who struggle with maintaining their own effective skin care regime. The brand locally launched with the beginning of the new year and claims to bring out the best in you. They have a panel of devoted dermatologists comprising of big names like Dr. S. Gouhar Alam and Dr. Najjia Ashraf, whom I have been seeing day in and day out on the television screen for the past few years.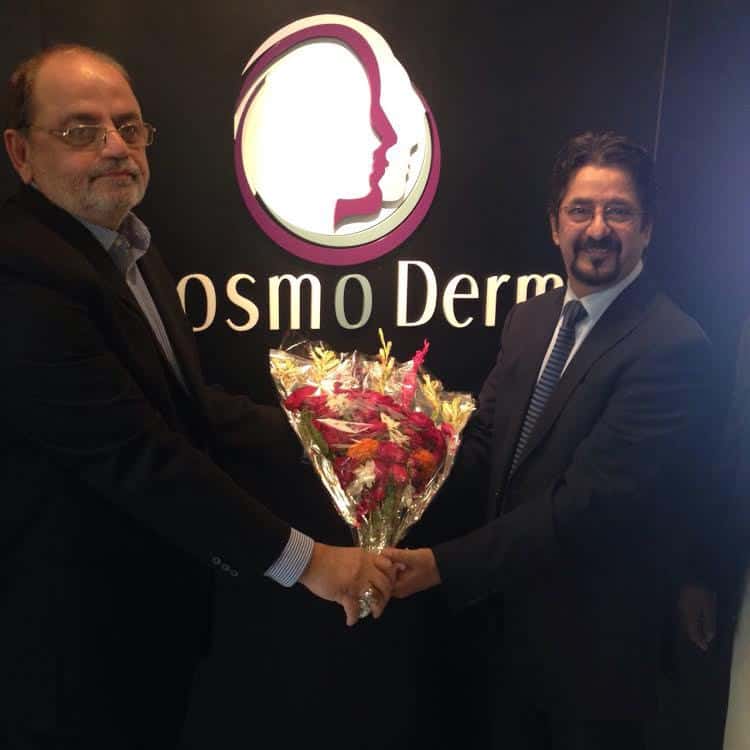 Dr. Gouhar Alam on the Inauguration Ceremony
Cosmo Derme ensures sanitation while examining and treating your skin. They also take in account skin sensitivity and provide the most unique and advanced technology for skin treatments with more than 35 different techniques.
Currently, Cosmo Derme is offering the following services;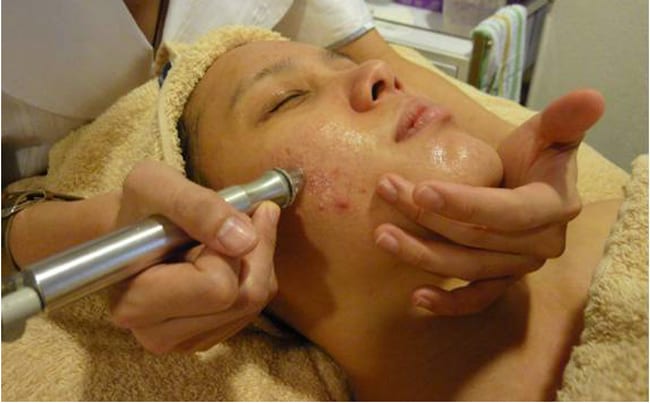 IPL Acne Treatment
1) Acne Treatment
I believe acne is the most common issue for teenagers when the hormones are just kicking in and if you don't get the right direction as to how you should treat your skin, it can easily spread and get worse.
2) Scarring Resurfacing
As Cosmo Derme puts it, this treatment is for candidates having fine wrinkles, brown spots, sunburns, acne scars and even over skin growths, hence I would say more mature skin. Irrespective of age, one must always take care of themselves not for anybody else but for personal satisfaction. When you look good, you feel good. And by looking good I mean groomed.
3) Body Hair Removal

Whether one agrees or not, this is something that everybody secretly desires! Cosmo Derme claims that they use the internationally certified, easiest, safest and painless method to get you rid of booking anymore parlour appointments.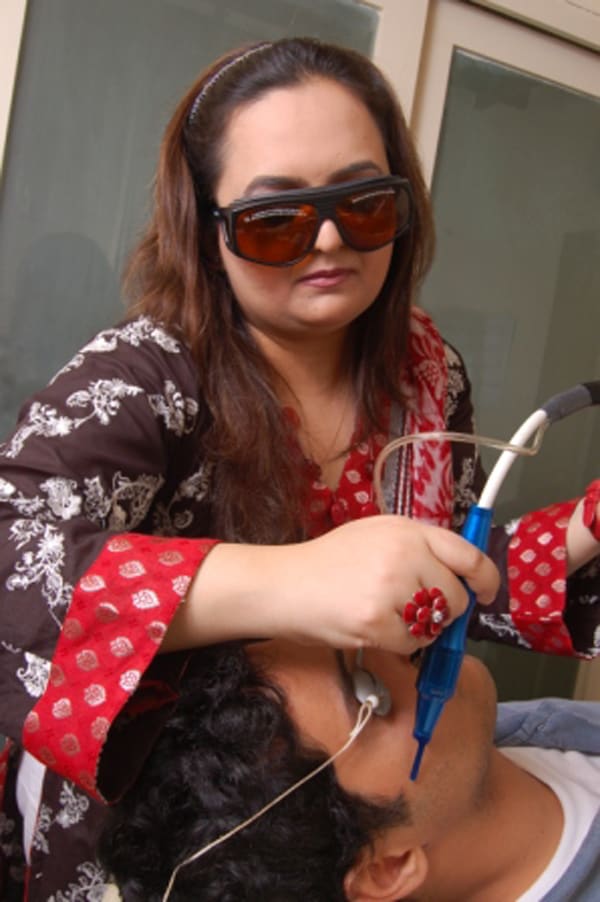 Dr. Najjia performing Laser Treatment
4) Laser Skin Treatment
This is for the people who want to get rid of wrinkles and 'facial irregulations'. It is more widely known as laser peel or laser vaporization and it is used to rekindle youthful skin by penetrating layer by layer with low light beams to break down dead skin cell. Cosmo Derme says that they use the newest methods of Laser Skin Treatment.
5) Aging Spots Skin Treatment
Sun spots are terrible and for someone like me who has suffered premature aging due to extreme sun exposure during school life, this treatment sounds alluring! The promise of this treatment is that it will give you back a healthy skin and the results are permanent.
6) Wrinkles Removal
Clearly this one is for more mature skin and Cosmo Derme can help people falling in this category with stimulation of collagen production and regaining the lost volume on high points of the face.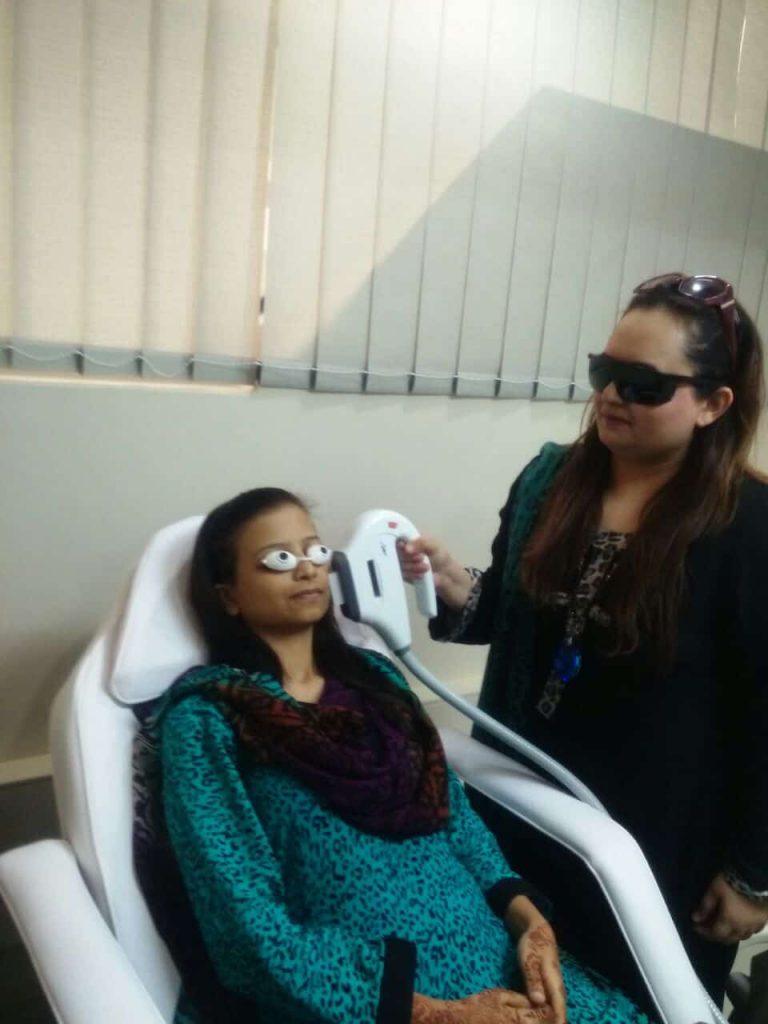 Fraction CO2 Laser Treatment
7) Fraction CO2 Laser Treatment
This is one of the latest skin treatments and has been introduced for the first time in Pakistan by Cosmo Derme. It is apparently a quantum leap when it comes to skin resurfacing methods. Furthermore, it is known to be highly effective and in fact, has highest cure rates among all skin treatments whether they are surgical or non-surgical. Cosmo Derme offers over 5 techniques utilizing CO2 laser treatment to cure different skin problems.
8) Diamond Micro Dermabrasion
Microdermabrasion, which is a mechanical method of exfoliation, has been around for a long while already but Diamond Micro Dermabrasion is fairly new and this method has also been introduced for the first time in Pakistan by Cosmo Derme. It has shown proven results and has been internationally approved by dermatologists. This treatment is carried out in just two sittings and has results as long lasting as up to 10 years.
9) Vine Anti Aging Treatment
Another treatment for aging skin but this one utilizes grape extracts and vine essence for facials, massages, and scrubs.
10) Aroma Facial Treatment
I'm a fan of aroma therapies because they are calming and uplifting. The Aroma Facial Treatment that Cosmo Derme offers is an exfoliation therapy that uses natural ingredients for hydration and healthy blood circulation on face.
Going through all these treatments, I feel they have something for everybody. As for the charges, it's best to call their customer support for the latest quote of surgeries and appointments in accordance with your skin care needs.
Follow Cosmo Derme: Facebook | Twitter | Google+
Photo Courtesy: Cosmo Derme
Disclosure: This is a sponsored post and I have written it to the best of my knowledge.
Bid farewell to skin spots, stray hair and aging lines in 2015 with Cosmo Derme!