Looking at all the international fashion at the moment, the hype these days is all about "monochrome", which according to fashionistas will be a hit this spring. Keeping that in mind, today I am showing you guys how to do a Tuxedo Nail Art in which the only colours used are black and white.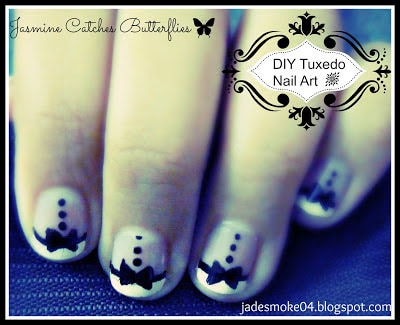 Step 1: Apply a base coat. I skipped this step as I didn't feel like layering my nails with polishes.
Step 2: Paint the tip of your nails with a white nail polish just like you do in French Manicure. You can use nail guides or tape for this step if your hand isn't steady. Let it dry.
Step 3. With the help of a toothpick trace a black line under the white one on your tip.
Step 4: Again use your toothpick to draw two small triangles, starting at the centre of the of the black line to make a bow as shown in the picture.
Step 5: If you wish, you can put three little dots as buttons under the bow as shown in the picture.
Step 6: Seal in your design with a top coat.
Have A Happy Weekend! 😉