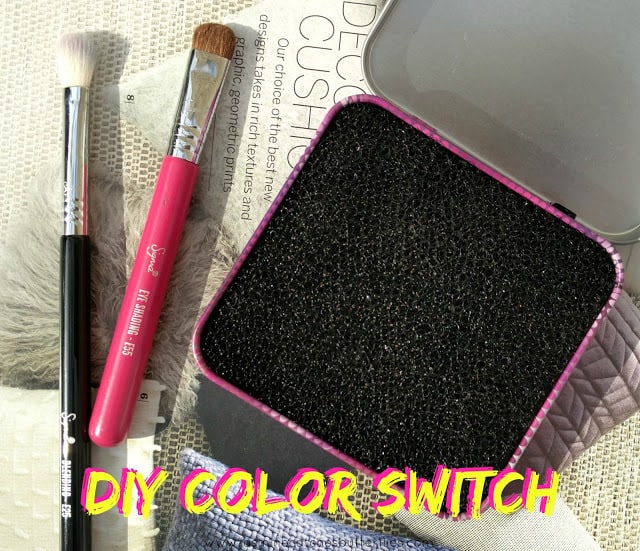 Most of us do not keep multiple brushes for the same purpose and this can be sometimes problematic when you need that very brush for another colour. This particularly happens when it comes to eyeshadow brushes as that is when extreme colour switching is required as opposed to a foundation or blush brush. So, months ago I saw some YouTubers using a color switch sponge thingie for instantly cleaning their brushes and picking another colour. Later on, I noticed that my bun donut seems to have the same nylon strand mesh and that is when I got the idea for this DIY.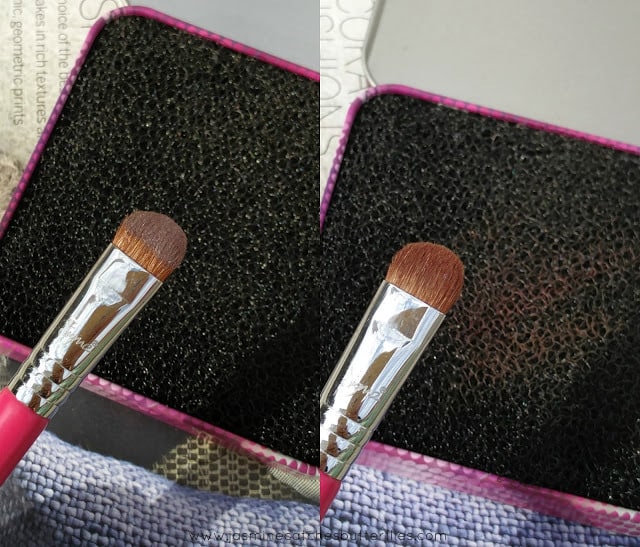 L: Brush loaded with eyeshadow, R: Brush after wiping on Colour Switching Cleaner
A color switch pad basically just helps you in getting rid of the powder pigment of the makeup that is caught in between the brush bristles. All you have to do is gently rub your used brush onto the pad and in no time it will be reusable without actually washing it or getting it wet. However, this is not a substitute of washing your brushes but rather something that you can use for instant colour switching on the go. Also, be mindful that this can only be used for powders and not for liquid or cream covered brushes.
Now I haven't had a chance of using the actual color switch product by Vera Mona, which I must say is a remarkable invention, but it is not available locally so I cannot compare the results of my DIY version to it but I assure you this works. I got the donut from Naheed Supermarket for only 150 PKR and I can easily make two out of it whereas the real deal costs about 2000 PKR.
If you are a lazy gal, just buy the donut and you are done. Though if you want something more presentable, follow the tutorial.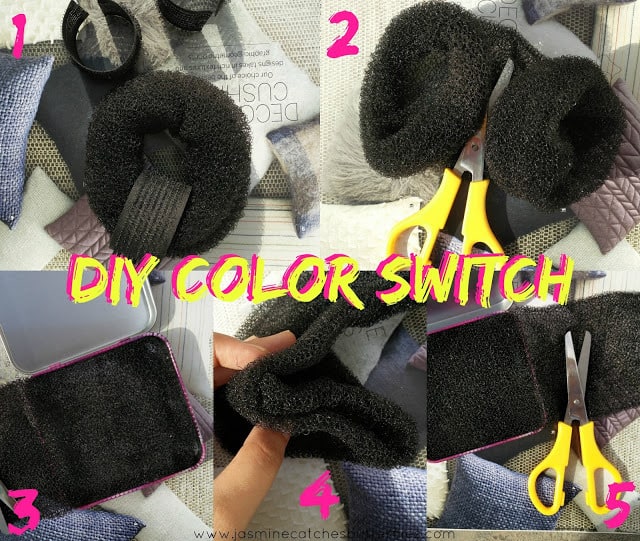 Materials Required: All you need is a bun donut, a pair of scissors and a tin or any container to store the colour switching brush cleaner.
1. Begin by taking off the velcro on your donut (if any).
2. Then just unfold it. You might need scissors to cut through the strands which are wrapped around for holding the shape of the donut.
3. Place the donut mesh in your container (without cutting from sides) to see how much fits.
4. Do a couple folds. I just folded once and had a total of four layers of mesh since I did not cut the donut open from the sides.
5.  Cut the excess length. You can make another pad of colour switching cleaner with the remainder.
Voila, there you have your own affordable version of the color switch in just few easy steps.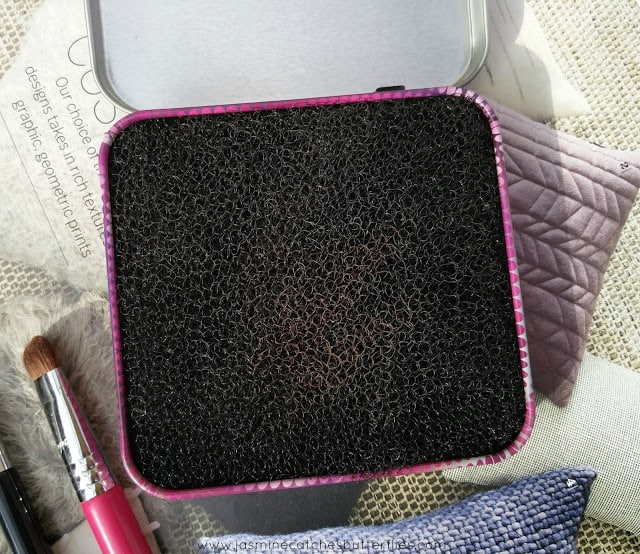 Used Colour Switching Brush Cleaner
You can always flip to another side when one gets dirty and even wash this cleaner pad once in a while. For darker pigments, the brushes might take a few more strokes than the lighter pigments but this certainly helps in preventing the transfer of unwanted eyeshadows. To ensure bristle safety please do not rub the brush vigorously on the sponge.