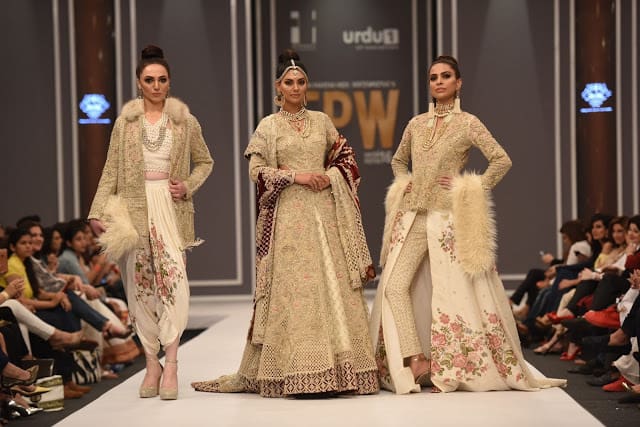 Fashion Pakistan Week Winter Festive 2016*
Shehla Chatoor – Tresor
Fashion Pakistan Week (FPW) is one of the most sought after fashion shows of Pakistan and I have been covering it for three years myself. While, I am not much of a fan of the winter season, I love winter clothing, be it western or traditional. At FPW the winter collections are supposed to embody festive vibes so they tend to comprise of heavy wedding style joras but a lot of people are not really pleased with the ones of that kind since they seem largely appropriate for Bridal Couture Week only. I personally, do not mind it much and I am not sure what is the exact brief that designers are given to prepare for this time of the year, however, it is highly commendable when somebody finds a balance and gives you something unconventionally festive for Pakistan.

So this time around, we saw a lot of shaadi apparel and honestly I found the first day to be quite disappointing in terms of innovation. Luckily, I was at the venue on the second day and witnessed some stunning collections in person so unlike many people's expectations, it turned out to be the best day out of all three.
Day 1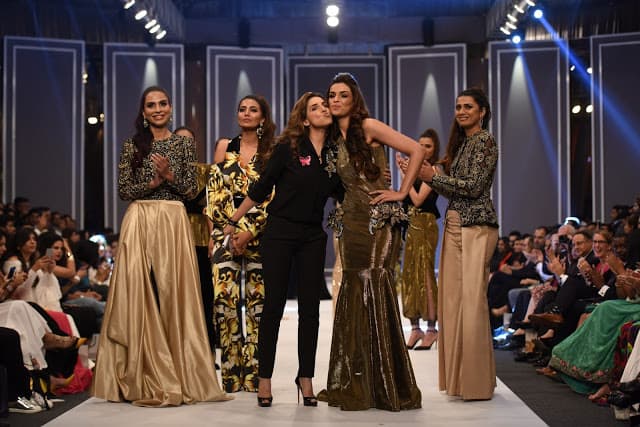 Maheen Karim – Tales of Vienna Woods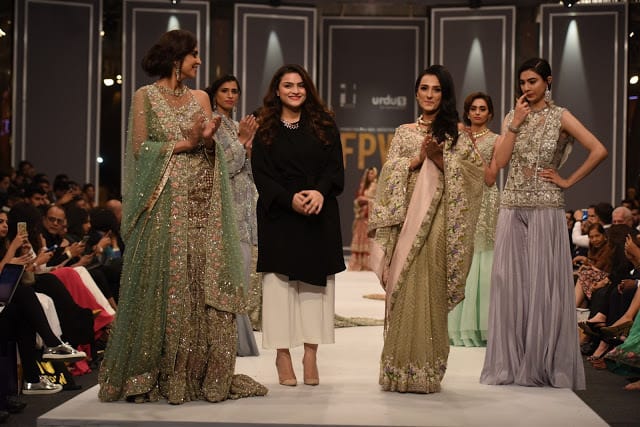 Suffuse by Sana Yasir – Freesia
For Day 1 Maheen Karim was the one who did festive differently with her Tales of Vienna Woods collection that as the name suggests had a brown and gold palette with bodysuits and maxi gowns mainly.
While the rest more or less leaned towards bridal wear, I liked the muted pastel colour palette of Suffuse's Freesia collection. Also, Jeem by Hamza Bokhari had a few smart looking pieces to offer from his Naurooz collection. I particularly loved the dress Hira Tareen wore.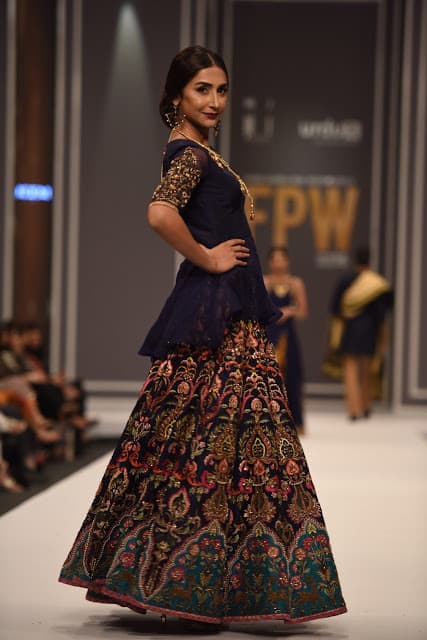 Jeem by Hamza Bokhari – Naurooz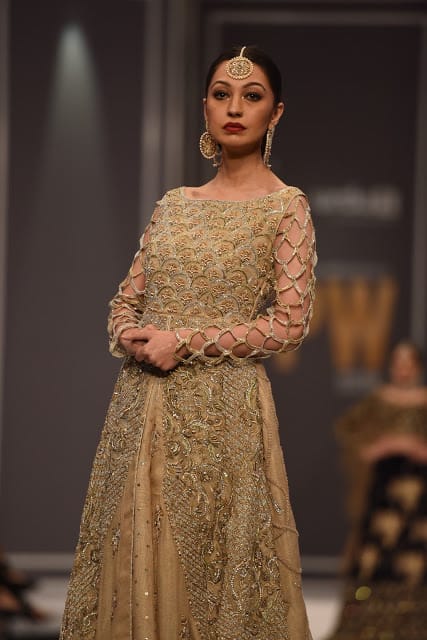 Mona Imran – Gold Rush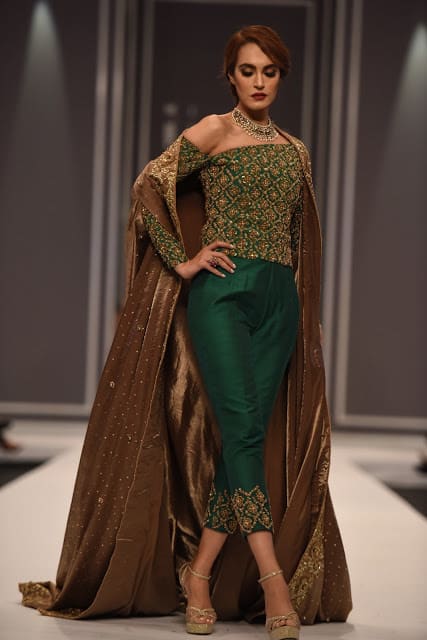 Mona Imran – Gold Rush
Mona Imran's Gold Rush was one stunning collection of the night with all that intense dabka work. The colour palette was kept quite conservative but two of my favourites include the dress that Rubya Chaudhry donned and another one was the bottle green top and pants with a bronze cape that Nadia Hussain wore as it looked quite modern and magnificent.
Day 2
This was my favourite day out of all three and you will see why. I believe most of the designers managed to hit the right chords on Day 2 of Fashion Pakistan Week while keeping their collections festive yet contemporary.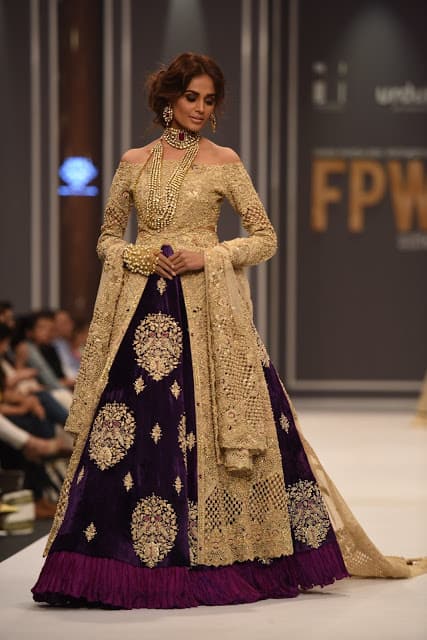 Shehla Chatoor – Tresor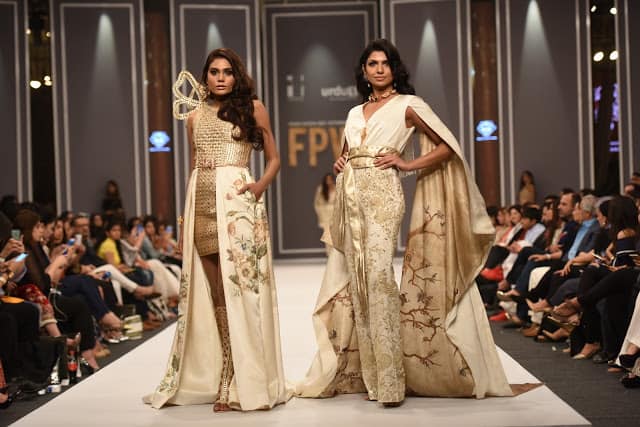 Shehla Chatoor – Tresor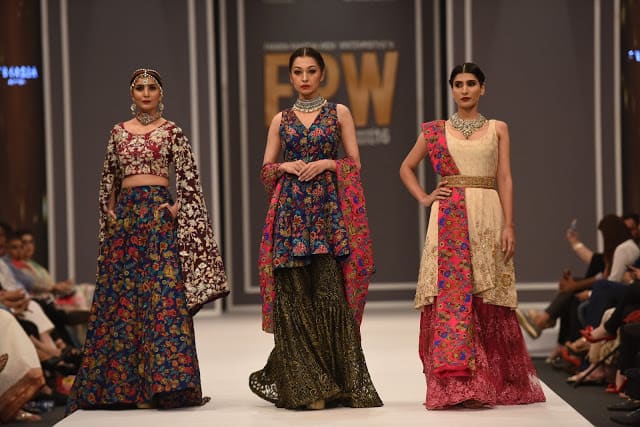 FnkAsia by Huma Adnan – Midnight Garden
You would know from my Twitter that I was head over heels crazy about Tresor by Shehla Chatoor and I might just even say that it was the very best of FPW, in my opinion, this time around. Shehla gave us a lot of versatile numbers from gowns to pants to clothing pieces I cannot even describe and honestly, even at the recent Hum Style Awards I was only impressed by Shehla's gowns on the red carpet that celebrities had worn. Her entire collection looked absolutely majestic and indeed she has given us a treasure.
Apart from Tresor, I liked FnkAsia's Midnight Garden for its rustic and mysterious vibes. I have always been a fan of Huma Adnan's work as her designs are comparatively accessible. Baroque Star by Arsalan Iqbal was a fine looking collection with elaborate gold brocade on black.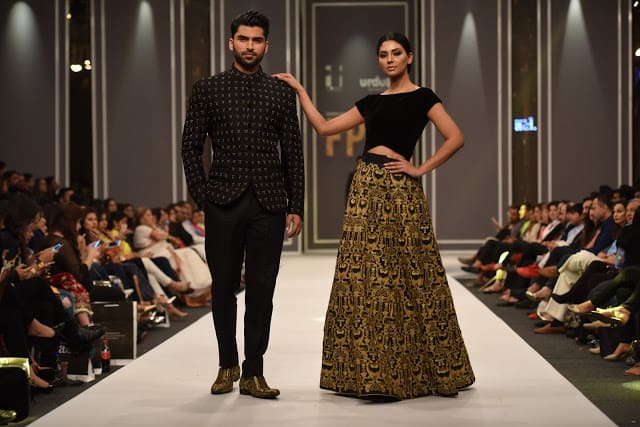 Arsalan Iqbal – Baroque Star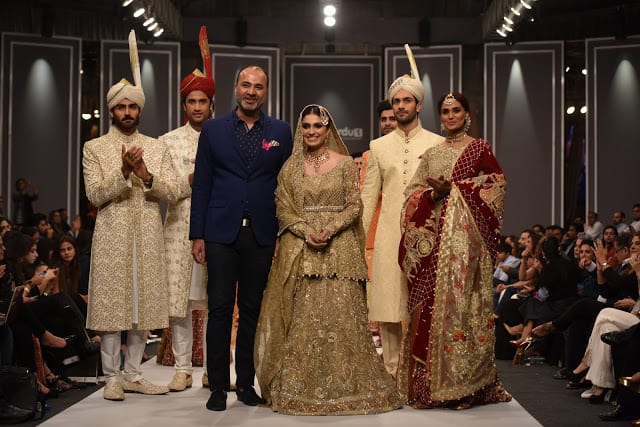 Deepak Perwani – Ishq
Ishq by Deepak Perwani was one collection that I was really looking forward to and even though it looked pretty there was nothing new about it. The menswear, in particular, lacked substance and the addition of oval base turbans looked distasteful.
Day 3 
For the final day of FPW, Nida Azwer had opened the night with her collection called Alankara. It is bridal but was well executed and I love how the cape that Ayesha Omer wore has animals embroidered on it, sealing a royal feel.
Nauman Arfeen is known for his quality work and since it mostly features menswear, I like how he kept it largely toned down but still had a nice selection of green and beige shades to display. Mehreen Syed looked gorgeous in the sari from his Pukaar collection.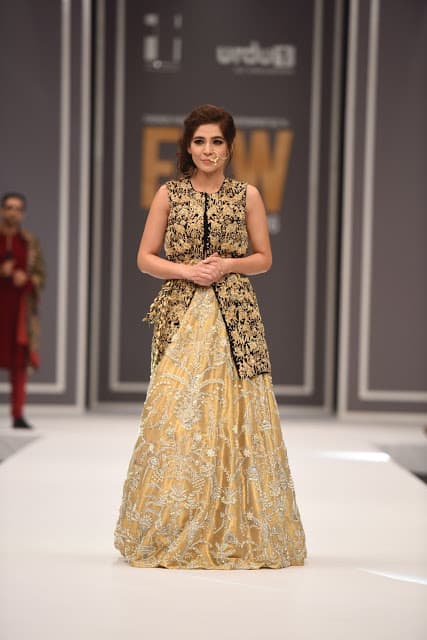 Nida Azwer – Alankara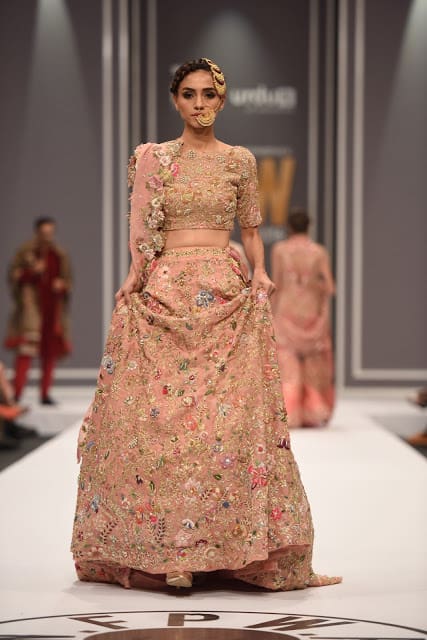 Nida Azwer – Alankara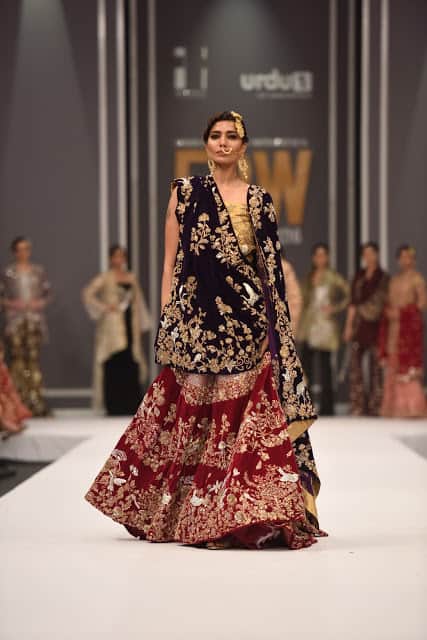 Nida Azwer – Alankara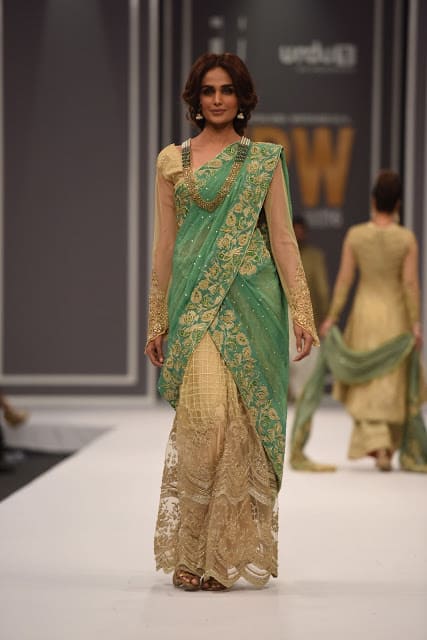 Nauman Arfeen – Pukaar
Shehla and Nida were two of my leading ladies this year, let me know whose collection was your favourite!
Photography Credit: Tapu Javeri