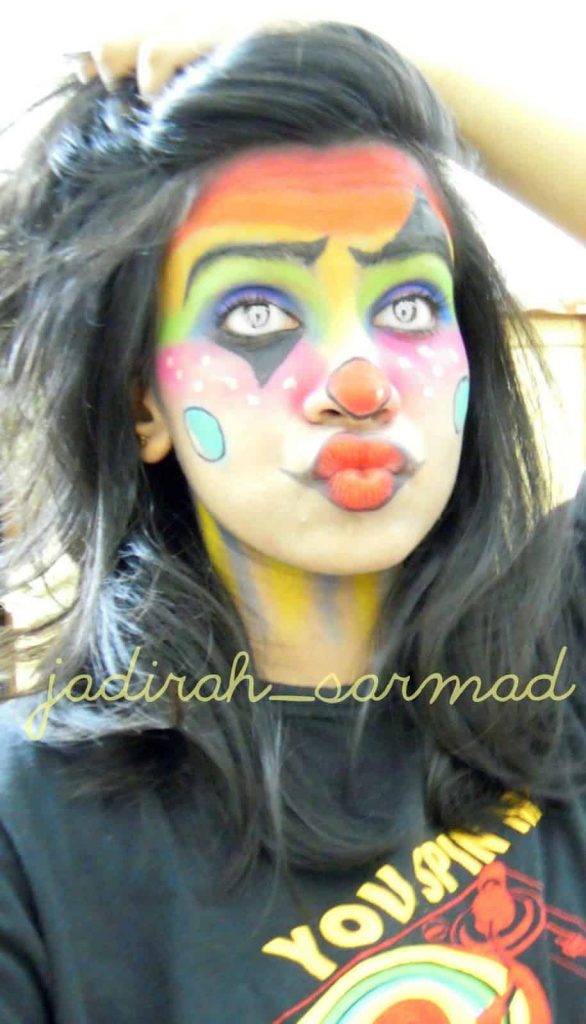 Firstly, I would like to thank you all for an overwhelming response on all of my Halloween looks! I feel absolutely touched by all the appreciation from you guys, people I look up to like Wafa Khan, my family, my best friend, my circle and even from people I don't even know! So, I am extremely grateful for all the love and support because it encourages me to do better. 🙂 (Sounds like I just won an Oscar! 😛 )

Moving on, I know Halloween's already over (sadly) and I did this look last night which I have already shared on all of my social media. Since it got so late, I wasn't really planning to post it here. I would have done so last night, but I begin around 7:15 PM and it took me almost an hour to finish it up. Besides, it was my parent's anniversary so we had to go out for the family dinner and then it begin to rain, the clock already struck twelve and the light's went out. In short, since it wasn't really planned, I couldn't squeeze this post in my schedule yesterday. However, when I woke up this morning, I decided to post it here because my blog is where I always look back later and enjoy reading my past posts as it's my online diary!
So, this look was inspired by the one and only Nicole Guerriero, she's my all time favourite and this year round she has done an amazing job with all of her Halloween tutorials! The minute I saw her Instagram post, I went gaga! Her Killer Clown was mind blowing and the difficulty level of this look was pretty high because of so many colours, heavy blending and minute details! As you can tell, the colour palette comprised of rainbow colours though we skipped indigo for magenta and slipped violet before it. In case you are interested, I have listed down all of the product details. The eyes really bring this clown to live and you could totally wear grey lenses, but I'm not a lens wearer so used the power of editing for photos! 😛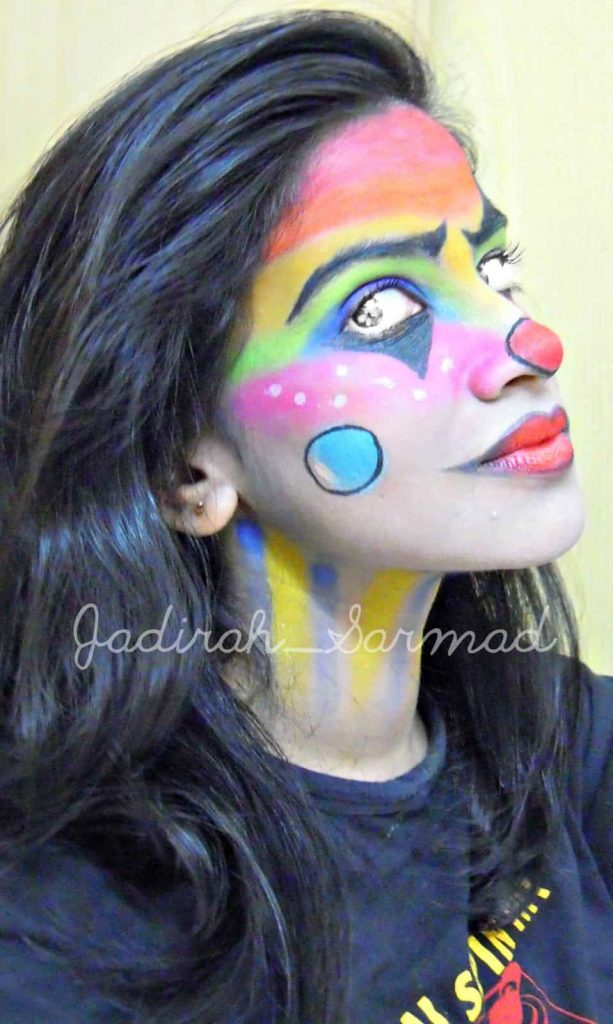 Product Breakdown:
Etude House BB Bright Cream for a white base and layered it on for colours to appear brighter on nose and cheeks. Also used it for the white freckles.
Glamorous Face USA palette for most of the colours and Miss Rose 3D palette for Green and Purple. (You can only use those crazy coloured palettes for Halloween!!)
Color Studio Lipstick in Bombshell.
Brushes Used:
Large Fluffy Angled Brush for brushing away fall-outs and blending magenta on cheeks.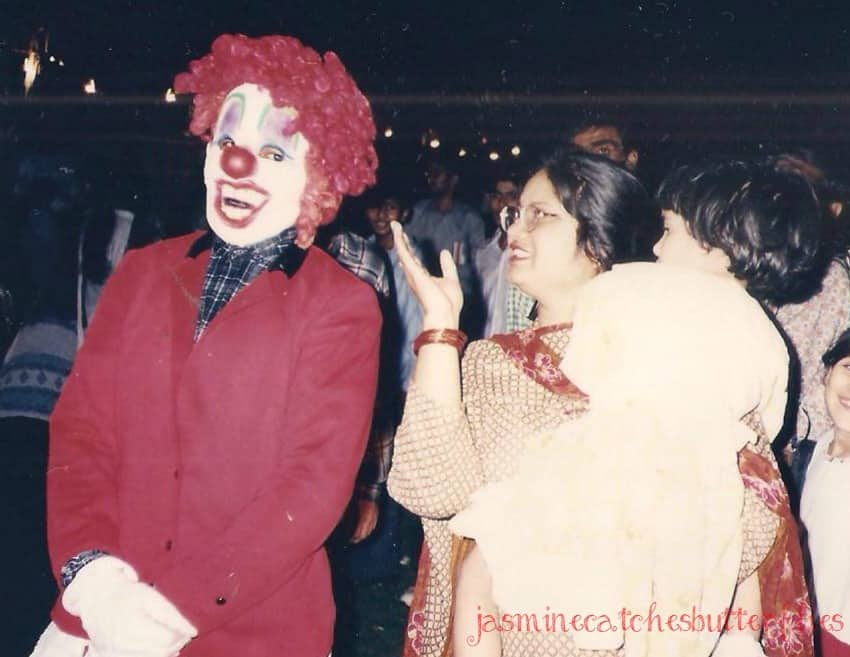 Even as a child, I was never scared of ghosts and witches because my father always told us things like these don't exist. However, there was something about this clown in Aladdin Park's Basant Mela once when I was as young as 4 or 5 that kind of scared me even though I have always loved clowns otherwise. So, here's a picture of me, in my aunt's arms who was just trying to calm me down and she was probably telling me it was just a normal guy in a get-up. 😀
Also check out my previous Halloween Looks: Bambi/Deer/Fawn and Half Skeleton.
Happy Belated Halloween! 🙂
I'll be back with reviews soon now! ^_^