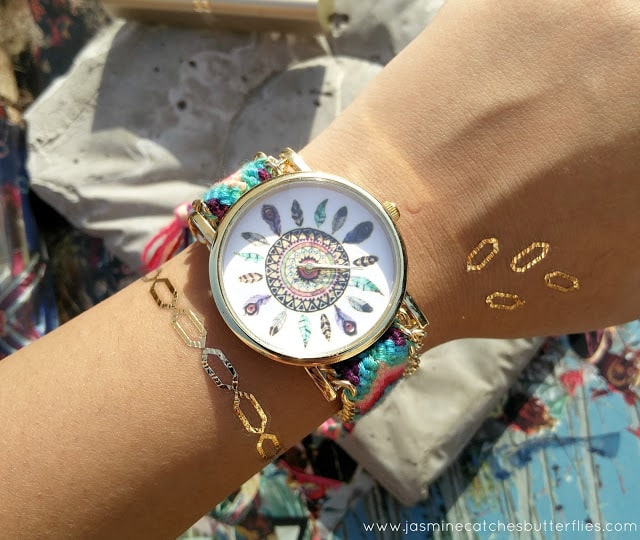 Geometric Feather Pattern Woven Watch from Zaful
PR Sample*
The importance of time is something that my father has always stressed upon and I can remember myself wearing a watch since I started schooling. There was even a point in my life when I was referred to as the 'timepiece' of the class and it was something I took pride in. The most asked question to me back in the school days was 'what time is it?' and even to this day you will never catch me without a watch or a pair of shades.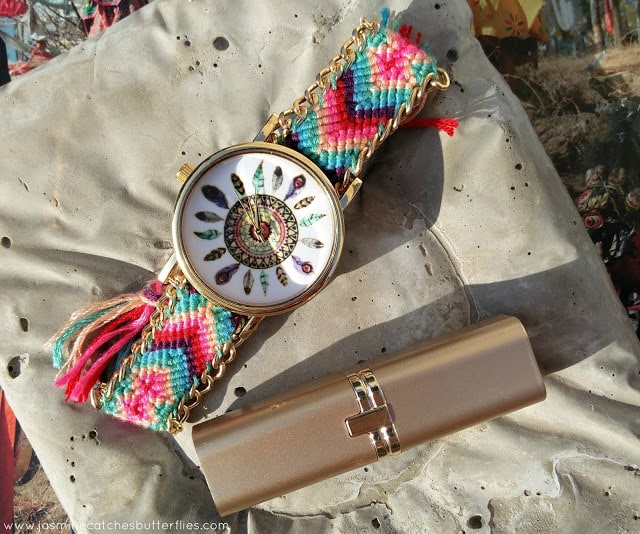 Boho Watch
I would admit though that I have never been much of a wristwatch hoarder and it is unlike my passion for sunglasses. I am the kind of person who is annoyingly punctual for many but time itself is more important to me than what goes around my wrist. Or at least, that had been the case for a long time anyway. Now, I usually prefer metal watches and I have very conveniently borrowed my dad's aeons old silver Citizen watch and a gold watch from my mum. So basically, that's pretty much it as I still like to keep it simple and classy. However, more recently I have been into Boho fashion so much that I even made a whole Pinterest board dedicated to it. Therefore, stumbling upon this colourful Geometric Feather Pattern Woven Watch on Zaful was no less than love at first sight.
The online portal has become a favourite of mine as you can get a lot of chic clothes and accessories for affordable prices. The quality is pretty decent for what you pay and at $5.13 I adore the look and feel of my new rustic looking watch. Its pale gold rimmed dial, which is made out of an alloy, turned out to be bigger than my expectation but it is a good size and I would have preferred it over a smaller one. Also, it still is light weight to wear. The watch comes in 8 colours and while the one that I have is labelled purple on the website, each of these have a lovely combination of different coloured wools. I liked all of them but chose this because it has a good balance of the variety of colours with mint, light blue, pink, red and purple intricately woven together in a chevron and diamond design on two parallel gold chains. The feather pattern on the dial is symmetrical and is the same for all the watches irrespective of the band colour. At the back, the wools are braided together into a drawstring to adjust the size of the watch around the wrist so it would fit a number of people.
I accessorised this boho fashioned watch with gold flash tattoos to amp up the vibe but of course, it is no less hip on its own. Like I mentioned, I usually wear formal watches but this Geometric Feather Pattern Woven Watch is a nice fashion find for a more feminine and carefree look.
You can check this cute, girly watch for yourself on the website in all the shades and since Zaful is currently having a mega sale in November for up to 85% off, this is a great opportunity of snatching some good fashion apparel for a steal!
I would love to know how you would style a watch like this and also what colour combination would you go for!